Remember that "If I see something noteworthy I'll blog it" from last week's post? Well…

OP: "Cloud Age Symphony" by Okino Shuntaro
I have a simple message for the good folks at Gonzo:
You better not fuck this up.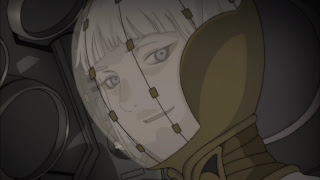 The inevitable has happened, the elephant in the room has finally been acknowledged, and the heroes of Last Exile are back. With the story headed towards Anatoray's involvement at last it seemed likely, and this unique recap episode – effectively a recap of the entire original series, bookended with brief new footage (I still can't get used to KanaHana as Al) confirms it. My assumption is that the "Tabibito" manga is going to woven into the storyline, linking the events of the classic show with the new one.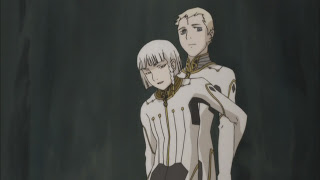 To say that I'm conflicted about this is a huge understatement. Especially with the implication that Claus is disabled, unable to walk and reduced to dreams of flight, this seems like a cheap stunt – a way to acknowledge his existence without upstaging the current cast. I'll give "Fam" the benefit of the doubt on that, but I have every reason to be concerned that Claus, Lavie and Sophia (presumably) will be ill-used based on how badly the current crop of characters have been written – either as stunt casting or a last ditch attempt to save the show. To be honest I'd rather have had them not be involved in this sequel – I don't think they can save it, and I'd rather have their place in the mythology untainted. Nothing would make me happier than to be surprised for the better, but I wouldn't be shocked to find that Claus is now voiced by Kaji Yuuki.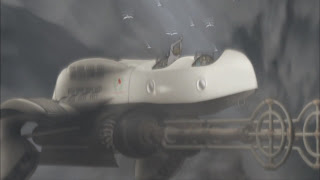 A few things jump out at me in watching the old footage. First of all, the original show holds up incredibly well visually – in fact, it's a shocking reminder of how ordinary "Fam" looks in comparison, with it's blindingly bright color scheme. The original OP and ED hold up too, and I won't deny the powerful emotional tug when the strains of "Cloud Age Symphony" started to play. Finally, while "Fam" has grand scale and an interesting geopolitical premise, the sheer joy of flight is nowhere near what it was in the first series. For one, the act of flight has been less prominent – somewhat overshadowed by that intrigue and sweeping plot. But as well, it simply isn't as magnetic as represented by Fam and Giselle as it was by Claus and Lavie. The magic isn't there.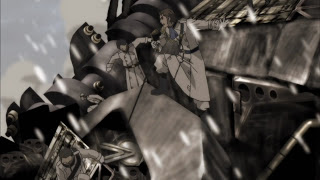 I won't pretend for a moment to be impartial – I'm not. I love Last Exile and seeing it in all its glory simply serves as a reminder of how far short of those glories "Fam" falls. It's a bold and risky move for Gonzo to try and revive the classic series and hope for some reflected light on the new one, because I don't think the current show will hold up very well to the comparison. On the other hand, it seems impossible to believe that the inclusion of Claus and Lavie wasn't planned all along, and it's impossible to set a show two years after the one old ended and not acknowledge their iconic role in the mythology. I'll be optimistic and look at this as an opportunity – the last opportunity – for the creative team to lift their game and make "Fam" into something that can offer a meaningful contribution to the Last Exile canon. It's not too late, but there's no time to waste.
ED: "Over the Sky" by Hitomi
Epilogue: