After 15 episodes, I think we need to confront the possibility that Guilty Crown has figured it out, and is turning into the show we all hoped it would be.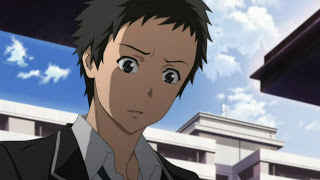 No no, it's not perfect. From a logic standpoint, the whole notion of the red wall closing around the school is pretty silly (though it does work nicely as a metaphor). And I'm quaking in fear that the person Shinbungi says he's supposed to get to see if he beats Segai at chess is Gai. That would represent one of the forehead-slappinngest LOLWUT moments of the year in anime. And I'm still not sold on Daryl's character arc, which I'm still convinced is conceived in the mold of Viral from TTGL, but is being executed with none of the subtlety and style.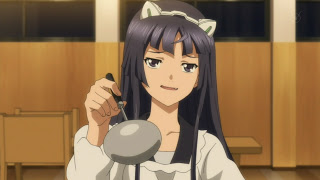 But in the larger scheme of things and looking at the problems Guilty Crown has faced earlier in the run, those are comparatively small issues. Shu is undergoing a real character arc at last (though I dearly wish he had a better seiyuu to bring it to life). The series is starting to hone it's scattershot focus and deal with the elements of the plot that were most interesting, and ask some important and troubling questions in a more general sense – some of the same ones that Yoshino Hiroyuki asked in Code Geass. As with that series the asking is a bit clumsy and the approach the show is taking is rather broad, but at least the questions are being asked.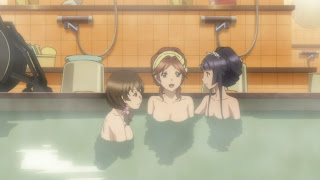 Hare being the next to go doesn't come as a huge shock, because she was fundamentally extraneous to the plot in a way none of the other central characters are. Given that the show has always been about Shu's personal journey in much the same was Evangelion was about Shinji's, the other characters can be viewed through the lens of how they impact that journey – and on that score, it seems obvious in retrospect that Hare's main function was the one she fulfilled here, to push him over the edge at last. She's the last real tie to the Shu of old, the timid boy who existed before all this started. And she was given a pretty darn good sendoff, I have to say – a very noble act of self-sacrifice and death in a pool of her own blood, though just why her corpse crystalized is one of those "GC moments" that doesn't seem to make sense on the face of it.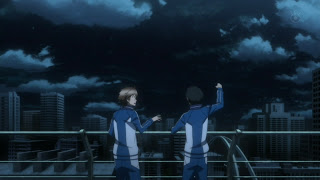 Of course that tragedy was brought about by the stupidity of Souta, leading his "F Troop" void holders on a hopeless quest to find more vaccine. Souta's initial sense of betrayal was quite valid though, as Shu abjectly broke a promise to him not to rank the students by their voids and rule accordingly. As he himself noted, Shu remains easily moldable and reluctant to stand up to stronger personalities. What we're presented with here is a pretty frank ethical and moral question – is Yahiro right in saying that Shu needs to divide the students into tiers, ruling over them unconditionally and deciding who might live or die? With too little vaccine too go around for everyone, there were no other obvious options at his disposal – but does that justify going along with Yahiro's plan, effectively denying lower-ranked students vaccine so the high-level ones (especially Shu) can live? I still believe Yahiro has an ulterior motive here – possibly even that of being a mole – but his actions still seem feasible even if that's not the case.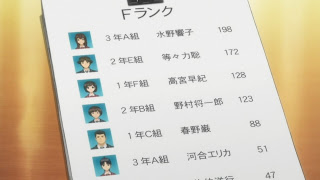 In this black and white choice of relativism vs. idealism, is there no third way? It's a fact that generals don't fight on the front lines, their own survival placed at a higher priority than that of their men. It's ironic that while Hare dreamed that Shu might be a King, what she had in mind seems very different than the reality her death seems to have pushed Shu towards. The question of whether kindness is a strength or a weakness is certainly a theme here, and the danger for the series is that Shu's transformation is too extreme and too immediate to be believable. It's not much of an arc if a character simply jumps from one place to another without traversing the territory between, even if he's tested by a traumatic experience.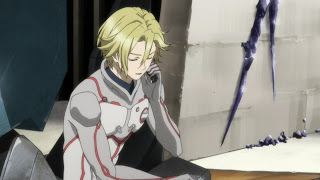 I suspect that's where we're going to find out if Guilty Crown really has turned the corner and found its voice, or has merely stepped up its game temporarily. But stepped it up the show certainly has, and I don't think there's any question that the last two episodes have been the strongest consecutive efforts the series has managed. If it hasn't demonstrated subtlety yet, it's certainly proved it has the ability to engage and even challenge its audience a little. Given that the series still looks absolutely fantastic, that's enough for now – although that won't stop me from hoping it can deliver even more.