There are a whole lot of contrasts at work with the premiere of Black Rock Shooter, both within the episode itself and me as a viewer.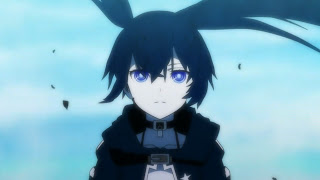 One of the disadvantages of being a one-man operation like this site, as opposed to a staff of writers like Random Curiosity, is that I only have one set of tastes to view anime with. Yes, they evolve over time and I grow to like some genres more and go through stretches where I tire of old favorites, and I like to think I'm open to liking anything. But there's no one that likes everything, and no one who's personal biases don't impact what they write. For a show like this or Nisemonogatari, it would be nice to have someone who's really into the material to cover it – because if a show isn't in my comfort zone, my only real choices are to fake it (never) blog it (probably unenthusiastically) or not cover it at all. Those are series that clearly have a large fan base, and deserve a place at the table.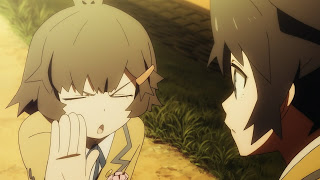 Now, I won't compare BRS to the works of Nishio, because while the latter are series I just can't manage to watch, the former is perfectly tolerable – just not a premise that interests me much. BRS is a serious work by serious people and deserves to be treated as such, but from my perspective it feels somewhat calculated and shallow. In short, it's always seemed like a promotional video to me more than an original series. On the other hand, it comes to use from Ordet, the studio founded by Yamamoto Yutaka and filled with interesting names from other studios, and as a new entity with a lot of potential it's fascinating to see where they go creatively. And while director Yoshioka Shinbou (who also directed the OVA) doesn't present a compelling résumé, by far the most notable name on the staff list is Imaishi Hiroyuki, director of Gurren Lagann and of the most distinctive visual stylists in the field. He's the Animation Director here and that alone is enough to place BRS on the radar screen of any serious anime fan.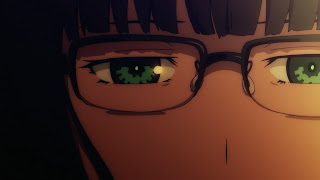 As the storyline itself is a contrast of two worlds – a very classic slice-of-life at a middle school, with an alternate world of terrible violence and destruction – I found the production at odds with itself too. Frankly, there are many instances where the art looks sloppy and the animation stiff, and the CGI – at least to my eye – looks positively dated. On the other hand, Imaishi's stamp is all over the imagery of the piece, the stunning and harrowing world of Black Rock Shooter, and the scene where heroine Kuroi Mato (Kana Hanazawa) meets the chilling wheelchair-bound Izuriha Kagari (Kitamura Eri) at the house of new friend Takanashi Yomi (Sawashiro Miyuki) is brilliantly staged and genuinely creepy.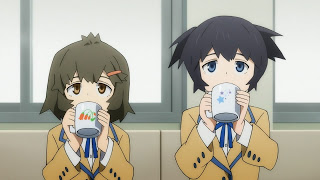 What we know of course is that all of these girls have dual existences, in our world and that other one, though for anyone who didn't know the premise the things that happen to the blue-eyed girl in that hell could be highly disturbing. As is, there's a strangely distant quality to the violence here, starting with the fact that it elicits almost no reaction – no cries of pain or fountains of blood. While that world is visually arresting it's the mundane "real-life" scenes in the premiere that have the most impact, as Kuroi meets Takanashi and sees a potential soul-mate in the girl who shares her passion for "The Tiny Bird and the Colors". Kuroi's pain when Kagari is shunning and frightening her feels much more real than anything that happens to Black Rock Shooter.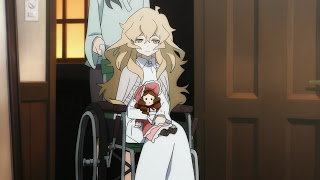 This is a very familiar premise, and feels more the product of a marketing meeting than a writer's meeting. Still, despite the inconsistency in the direction and animation I enjoyed the first episode – probably more than the OVA, in fact. This is an alternate retelling of those events, and the presence of Imaishi adds a certain style and pop to the TV that the OVA lacked, for me. The question for me is whether this artificial construct is going to be able to generate enough that's genuine to make it compelling for eight episodes. I could rail about how in any case this doesn't belong on NoitaminA (it doesn't) but as that block appears on track for a return to its roots – more or less – in the Spring, it hardly seems sporting to dwell on that.
OP: 「ブラック★ロックシューダー」 (Black★Rock Shooter) by supercell feat. 初音ミク (Hatsune Miku)