Now let me get this straight – Junichi fell asleep in that position? That, I must confess, is quite pathetic.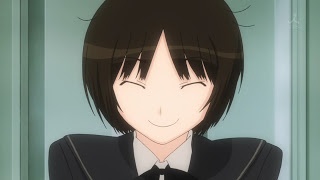 It's no surprise that my interest in the romantic side of this series picked up a little this week, as Nanasaski Ai was my favorite among all the non-Divine girls in the first season. She's sort of the Goldilocks' porridge of "Amagami" – she's spunky but not tsundere, younger than Junichi but doesn't act too young, very pretty but not intimidatingly so. She's possibly the most difficult of all the girls to pin a trope to, and for a series that's all about celebrating the romantic cliché that says something positive about her.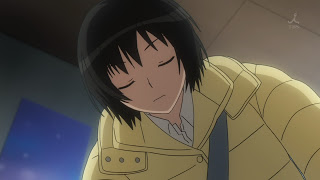 That said, things once again jumped off to a pretty low-key start, with the drama seeming to come only from Junichi not having much time to spend with Ai because he was working so hard in cram school so he could get into a University and be man enough to be Ai's girlfriend. Well, whatever – it was really all preamble to the scene in the infirmary, which was sweet yet somehow probably the most erotic scene in Amagami SS since the puppy incident in the Haruka arc. When Junichi suggested he'd like to "fall asleep on Ai's belly" that wasn't exactly what I had in mind – my goodness, no wonder she begged him not to move.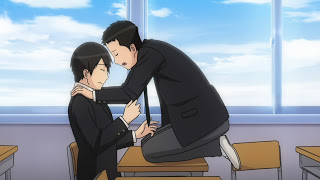 Unlike the Rihoko arc, this one really doesn't have an agenda – Junichi and Ai are already a couple and sort of planning for their future, so this mini-arc (like most of them will,presumably) acts as a sort of placeholder/epilogue. I'm not expecting any of the pairings to break up, so it really boils down to how much you like seeing them as a couple. As such, this episode and the next will likely end up as two of the better ones in the series, as there's a nice chemistry here. I also like this incarnation of Junichi better than any of the non-Haruka ones as well – his snark level is way down, his sincerity level is up, and he's a lot easier to take. I'm not really that interested in this whole business with Junichi being kidnapped for a cram school training camp and ruining their Christmas Eve together – which, to be honest, sounds like a story he's making up so as to surprise her. But my expectations for this season are pretty low, and as long as the two of them are enjoyable to watch interact I'm fine with that.