I think JC Staff, realizing that too much time has passed for "Shana" to ever return to its glory days as a commercial success, has pretty well decided to stop worrying and love the bomb. At this point they don't seem too concerned with anything except throwing as much Shana-porn at the fans as possible per episode, with lots of GAR Shana speeches, epic battles and Shana-Yuji moments.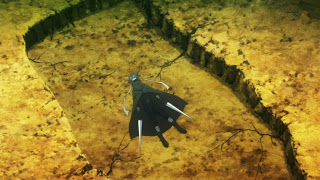 It's all pretty entertaining in a breezy sort of way, so I have no major issues with this approach. But I'm sort of getting tired of some elements of the formula, starting with the systematic destruction of one major Crimson Lord after another. This time we we were treated to a battle of supreme badasses between Sabrac and Khamsin, and Sabrac seemed to be dominating even with Wilhelmina and Rebecca helping Khamsin, but as far as I can tell when the SotF appeared he had a sort of orgasm seeing how powerful it was ("It's so big. It's sooo big…") and let himself be vaporized. I have a couple issues with this trend, the first of which is that these Crimson Lords are generally more interesting than their Flame Haze counterparts. As well, there's an air of predictability and inevitability to events now. The ending of the series is pretty well telegraphed even for an anime-only viewer like me, and it's just a question of how we're going to get there.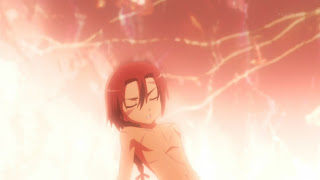 I guess there's enough miles on the tires and enough nostalgic affection for me that those problems are irritants rather than insurmountable problems. I do like "Shana" and I do have enough time invested in this enterprise to appreciate the thematic fanservice, and to care about how Shana defeats The SotF and liberates Yuji even if I know it's coming. There's a sameness to the way this conflict is going though, and as pumped-up as the last few eps have been that can get monotonous. I hope now that The Snake has fully awakened and entered our world the course of battle will change a little – heck, we're running out of Crimson Lords to kill off and don't have enough to allocate one per ep through the finale, even with Bal Masque included. Would it kill them to kill off a Flame Haze or two, just for variety?