All right all you whiners who wanted to hear Takayama Minami sing again – you happy now?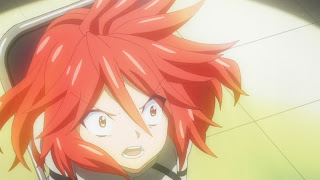 You know this episode of Senshogear was a "very special" one, because there was no OP – and indeed it was, a little bit of everything and an emotional rollercoaster. In the process it showed me why despite it's clumsiness and occasional misfires, it's my favorite of the four Winter series that occupy this sub-genre – because it has more emotional power than the other three put together, for me. And while the animation lapses last week were harrowing, the overall look of the show is very distinctive. It may officially be Encourage Films, with most of the staff from Satelight, but more than anything when I watch this show I think of Gainax, and never more than this week. If there's any Gainax in the staff pedigree I can't find it, but I'm guessing there are some major Gainax fanboys among that group.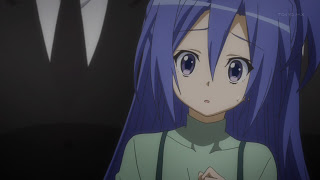 Senshogear has always had a mish-mash of styles and emotional tones fighting for supremacy, and it hasn't always worked. Though this week's ep was arguably the most jarringly discordant yet, it did work for me. It was probably necessary to give Kanade a little more backstory, not just because of the fans who felt cheated by her premature death but because she looms over the story as such a defining presence. That backstory highlighted some of the dark nature of the task the girls in this show have taken on, as we see her arriving at the Second Branch five years past, after the death of her family. Revenge is her only goal, and she undergoes some Wolverine-style torture to help her body become compatible with the relic we know is called Gungnir. It was only her partnership – and soon friendship – with Tsubasa that turned Kanade into the more empathetic figure we saw in the first episode.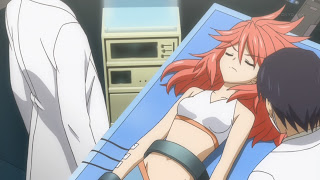 Much was revealed this week – in addition to Kanade's roots, much more light was shed on Tsubasa's shame at her "failure" two years earlier that resulted in the loss of the Nehushtan Armor and many lives. We also learned more about the way Kanade died – by unleashing her "swan song", a melodic weapon so powerful that it can destroy the body of the singer. Given that, it should be no surprise that Tsubasa would see it as her poetic destiny to die the same way as Kanade – and she's given the opportunity with the arrival of Chris (Takagaki Ayahi) who apparently took that armor two years earlier and now has somehow acquired, via that relic, the ability to summon Noise herself.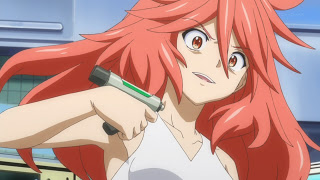 What follows is a classic Gainax battle sequence full of signature moves and fanservice, but also shot through with Tsubasa's self-loathing and Chris' arrogant disdain for it, as Hibiki stands by helpless and impotent. There's even a douin-ready moment when one of the Noise shoots strands of sticky goo at Hibiki, imprisoning her. Tsubasa uses this opportunity to unleash her own swan song, trying (unsuccessfully) to take down Chris, and to catch up to Kanade in her own mind (again, unsuccessfully – she survives thanks to Second Branch's doctors). Just who Chris is and why her symphogear ability summons Noise instead of destroying them is unclear, but the encounter ends with Tsubasa near death and the Nehushtan Armor apparently badly damaged.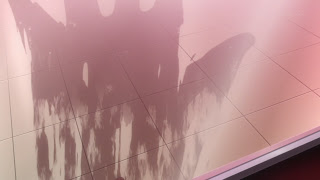 It's only natural that Hibiki would blame herself for all that, extending the chain of self-blame another link. Kanade died for her, and Tsubasa tried to – in Hibiki's own mind anyway. I don't think she's right in either case, but it's understandable especially given Tsubasa's disdain for her. It's sad to see how much pain those two cause each other, but of course the difference is that in Hibiki's case it was thoughtlessness that led her to continually talk of "replacing" Kanade, not malice. Her only solace in the world is Miku, who by now obviously knows something very wrong is happening with Hibiki but – for now – is letting it stay a secret. I love their scenes together and again they're wonderful here, with Yuuki Aoi doing another wonderful job bringing Hibiki's pain to life as Miku shows her the (blank) cellphone video of the meteor shower. I have a sneaking suspicion that Miku knows more than she's letting on, and perhaps much more – but the very thought that she could be betraying Hibiki is almost too cruel to bear, as that would bring unimaginable pain to her.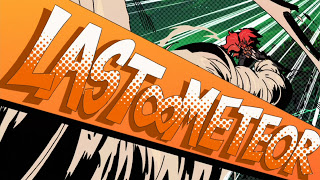 The episode caps, interestingly enough, with a very funny ED sequence that's a take-off on the Karate Kid genre, with Hibiki going to Genjurou for martial arts training, to which his first reply is "Do you like action movies?" This is a bit surreal and feels at odds with the dark tone of the rest of the episode, but the training montage (set to Aoi's humble yet charming singing) totally worked for me. And it may even serve to prove a point, as we've kind of reached an "always darkest before the dawn" moment – there's no one left to do Hibiki's fighting for her, so she can either give up or do whatever she can to protect the people she cares for, no matter how badly the odds are stacked against her.
ED2 Sequence: