As great as the first two episodes of season four have been – especially the second – this week's was as warm and comfortable as your favorite down comforter on a cold winter's night.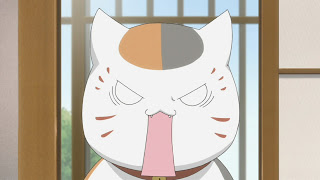 I'll admit my bias – this is the side of Natsume Yuujinchou I love best, though they're all wonderful. I love these self-contained episodic stories, not concerned so much with their place in a recurring plot but with telling a tale that stands alone, usually featuring impossibly cute youkai that Natsume forms an emotional connection to. It's junk food in the Natsume Yuujinchou diet, I know – you couldn't live on these eps alone – but they're still a pure joy and we haven't had as many of them over the last season and a half as we used to.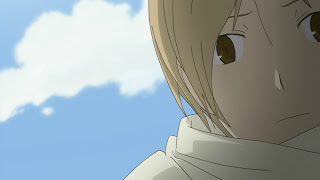 This week's tale involves a strange little hairball being attacked by crows, that Natsume initially mistakes for a kitten. Being constitutionally unable to ignore any creature in need, mortal or youkai, Natsume swoops in to help despite Nyanko-sensei's admonition that he'll only get himself in trouble. He will, of course – we all know it – but it's the fact that even if he was sure of it Natsume would help anyway that makes him Natsume. And indeed, the "kitten" turns out to be a youkai, one he appropriately names "Hairball" at first, before settling on the much more affectionate "Fluffball" later in the episode.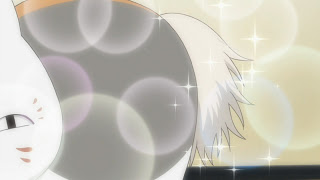 Fluffball turns out to be a Karu, a member of a flock of this migratory youkai that travels from place to place, eating madly (and apparently terrorizing other youkai). But this Karu clearly feels a sense of gratitude for Natsume, and brings him some Akazasa berries to cure the wound it had inadvertently caused Natsume in its initial panic, which festered with the youkai poison. Fluffball has also inadvertently snagged a ring belonging to a powerful youkai called Amana (Orikasa Ai) who had invaded Natsume's house – presumably to try and steal the Book of Friends. She puts a seal on Nyanko's face and gives Natsume three days to find the ring and return it before she burns his house down.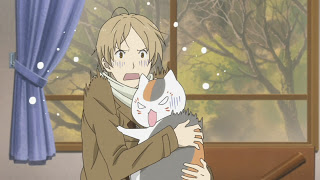 Yes, there is a tie-in to the developing themes of the series, as Natsume is forced to rely on other youkai for help with Madara unable to "flash". Hinoe – showing up nearly every week – is willing to assist (indeed, I see a bit of the cougar in this youkai, as she's grown very, very fond of Natsume). Hitotsume and Ushikao are always there for Natsume, too, obsequious as ever. But it's the Karu who end up saving the day, despite the threat of the other local youkai gathering to drive them off. Fluffball returns the ring and they combine their forms to make a dragon to save Natsume from Amana, who refuses to believe Natsume hadn't been holding out on her all along.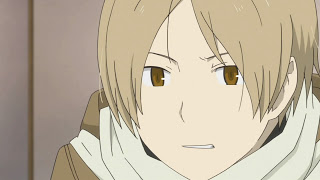 "Beautiful" is often a word that fits this series, and it certainly does here. The Karu are beautiful as they light up and ascend into the sky, and the emotions that drive the episode are beautiful too. Naively so, no doubt, but Natsume Yuujinchou is a series that can work your sentimental and idealistic side like few others. The core message continues to be that Natsume, while trying to get stronger, is really learning how to open his heart – both to his human extended family and to the youkai he increasingly realizes are his family too. Tthat's the most beautiful message for me – that his ability isn't a curse, but a gift, because it allows him to see wonders and form bonds forbidden to other humans. I had my doubts for a while that the series was headed that way – it looked as if Christopher Robin might be getting ready to leave the Hundred-Acre Wood – but I'm feeling much better about the long-term direction of things after the string of episodes that began with the third-season finale.
Lastly – it wasn't my imagination, Nyanko-sensei is getting fatter (though still as kawaii as ever – "I'll freeze my cute little paws off!"), Natsume noticed it too. I wonder if this is a foreshadowing of something that will be important later, or just a cute sub-plot?