One of the great LOLWUT series of 2011 returns with an OVA that lives up (down) to its own lofty standards.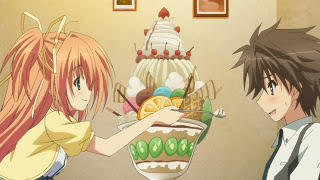 Let's face it, Hozhizora was never going to win any prizes for its intellectual content and subtlety. Brain food it ain't, but at its best the show could be quite a lot of fun. As a romance it left a lot to be desired, but when it came to randomness and quirky (sometimes downright bizarre) ecchi, it delivered pretty consistently for a while. Alas the final arc lost most of its bizarre charm and tried to finish on a traditional romance VN adaptation route, and chose a relatively uninteresting girl who'd received little development at that. As a result I'm sure most people forgot about the series pretty quickly.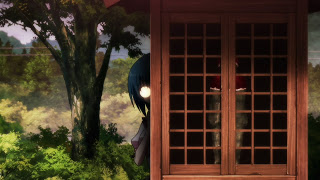 By its very nature, then, Hoshizora is a show that lends itself well to the OVA format, where it can kick loose and be pointless and ecchi to its hearts content. And indeed it does, with an episode that focuses on side-character Daigo, the requisite sex-crazed doofus friend of the MC. Kazuma and Ui are largely absent from this, apart from the jealousy they inspire in the romantically hapless Daigo. Through a series of hare-brained and ill-considered schemes he has mini "arcs" with most of the female cast, which usually conclude satisfyingly enough with him getting pummeled. Perhaps the most amusing contrivance here is when he walks in on his mother (the homeroom teacher, if you recall) changing into a maid outfit.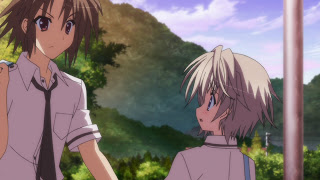 There's also a chilling encounter with three cougars (a theme of recent anime, it seems) Daigo mistakenly calls "middle aged". Hina and Tsumugi get their turn, but the biggest forehead-slaps come – as usual – from Ayumu, who Daigo has had an unhealthy obsession with since the first few episodes. Somehow Kasane convinces the gullible Ayumu that he can cheer Daigo up by dressing in a girls' school swimsuit, which leads to some classically disturbing Hoshizora dialogue from Daigo and yet another drubbing, this time from Kazuma. Ayumu always brings out the perverse side of this show, and here it shows why it sort of works in its twisted way – it's enough to put Ayumu in the swimsuit at the "beach café" during the culture festival, serving bananas and frankfurters – but only Hoshizora would actually have him squirt mayo on his face and show it dripping down…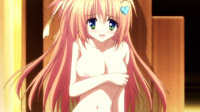 In the end, even full-on goober Diago gets a happy end (no, not with Ayumu) when his stalker – the girl he's been helping out in a MMORPG, Dai Yuuka (Tamura Yukari, believe it or not) – shows up at the festival to thank Daigo and ask him to dance around the bonfire with her. It's a surprisingly straightforward way for one of the weirdest mainstream anime of 2011 to go out.