I love this show – I should, because I've been clamoring for it for or one like it for years – but I can already tell it's going to be a tough one to blog…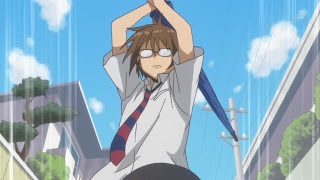 Comedies, as a general rule, are harder to blog than dramatic series to begin with. Then you have comedies like Working which are a little easier than some, because you have some fairly serious relationship stuff and you can recite a litany of the best lines of the episode (of which there are usually several). Daily Lives, by contrast, isn't so much about anything but the experience of watching it. Trying to explain why this show is funny is like trying to explain why your favorite food tastes good – words are not the right medium, you just have to taste for yourself. And with this series, you just have to let the baka wash over you and laugh your ass off (or not, depending on your tastes).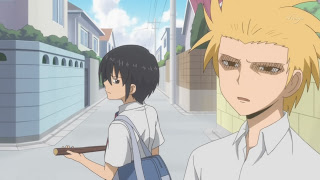 But if I'm to call myself a blogger I guess I have to try, so here goes. For starters, this show is not K-ON, or Lucky Star, or Yuriyuri or Kimi to Boku (sorry, I had to). And it makes absolutely no effort to appeal to the same viewers. That, in itself, makes it a treasure to be savored in my book. Then there's the sheer hilarity in simply listening to Sugita Tomokazu and Miyu Irino play off each other. No disrespect to Suzumura Kenichi and the rest of the cast, 'cause they're great too, but Sugita and Miyu-Miyu are at the top of the class and the contrast between Sugita's dramatically preposterous rumble and Miyu's frantic earnestness is pitch-perfect. There's also the way the show pegs how girls slot into specific imagined roles in a boy's consciousness, and that leads to a much better use of female characters than you typically see with male characters in the thousands of shows about girls @ school.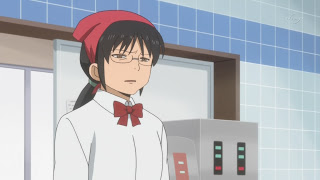 As for this week's episode itself, it continues to display the strong writing and sharp timing we saw in the premiere, and again was a mix of the preview chapters and a few new ones. Of note was a chapter where the principal (Ishihara Bon) tries to improvise a story about a school tradition with disastrous results. My favorite may have been the first, where Tadakuni finds a stick on the way home from school, which launches the trio into an elaborate fantasy RPG scenario that's quickly abandoned when Tabata and Tanaka realize they've forgotten their bags. The payoff – it's always about the payoff with Danshi Koukousei, – is when Motoharu (Namikawa Daisuke) and his troupe find the stick and start out down the same fantasy path, only to be mortified when their play is witnessed by a passing girl.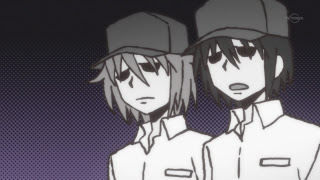 Speaking of, the girls get plenty of action this week too, with Literary Girl making another brief appearance, this time in a short skit where Motoharu mistakes her for another girl and wastes all his best "wind" lines on her. Tadakuni-imouto is back too, as the boys have all stolen her underwear again (that fetish is a bit more pronounced here than in my HS experience), and Motoharu's big sister (Hayamizu Risa) pops up twice, her shining moment occurring when it's revealed than she can still bully her brother, though he's now a foot taller than she is. Perhaps best of all is "Convex Mirror Girl" Nago-san (a hilarious Minagawa Junko) who rails at how annoying high school boys are to adult women, talking about themselves and practically begging for praise. Not to mention the gall they have in telling the frumpy Nago that she needs to take better care of herself, to which she responds by undergoing a magical transformation with the aid of the titular convex mirror (and opening her eyes).
There, maybe that gives a little sense of it. I suspect this is a show that's either going to click with you or not, with very little middle ground. The comedy is right in my sweet spot, which is pretty close to the Pythonic ideal of being very smart and very dumb at the same time (appropriate given the subject matter – and the title). The writing is sophisticated and understands the intricacies of timing and structure that make comedy look easy, yet keeps it simple and to the point. And the cast is chock-full of big-time seiyuu clearly having a great deal of fun with the silliness of the entire project. As for the much-discussed new ED, it's quite good and brings the proper level of idiocy and random to the proceedings. Now, I'm going to school – where's my Fixodent?
ED2: "Ohisama (おひさま)" by Amesaki Annainin (雨先案内人)
Omake: