I'm not quite sure how the main characters in a JC Staff anime ended up watching High School of the Dead – on the big screen no less – but I'm sure Madhouse was happy for the plug.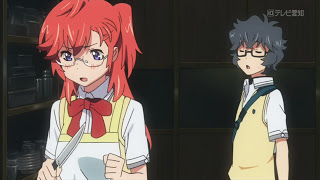 While this episode wasn't quite the flawless masterwork last week's was, it was nevertheless excellent, and revealed quite a lot both about the characters and where the show is going from here. In a way I think we can look at the first four episodes as the prologue – letting us know who everyone is and how they feel about each other (more or less) and revealing just enough of the mystery behind Ichika to give us a footing in the story. For a 12-episode romantic comedy Ano Natsu is pursuing things at a very relaxed pace, but it's paying dividends in establishing the characters as distinct individuals.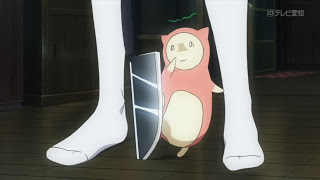 While there remains the possibility that the story is going to get significantly darker, for now this looks like a show that's going to treat its subject matter with a light touch. The humor is a little more broad than what we saw in Nagai Tatsuyuki's Toradora and AnoHana, and the overall tone is more wistful. Inner monologues and fantasy sequences look as if they're going to be a significant part of the style, which could grow tired after a while – but I'm confident it won't. They're being used cleverly both for some of the bigger comedic payoffs of the series and to "cheat" a little by revealing more about the characters' inner feelings than would be possible through strictly "real" interaction.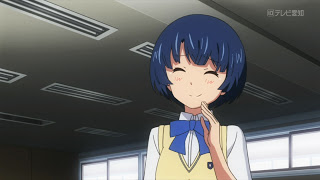 It's partly through these flights of fancy that we realize that Ichika does indeed have feelings for Kai, perhaps as strong as those he has for her. We also see this through her reaction to his impromptu shopping trip with Manami-san, a voluptuous older woman with a roadster who "kidnaps" Kaito off the street to accompany her as she buys her lacy underthings, then takes him back to her place. Cougars are something of a trend in anime these days, but in this cast things are more (lesss?) than they seem, as Manami is eventually revealed to be Tetsuro's older sister. But it says something about Ichika's feelings that she would follow the pair of them (using Rinon's teleport) all the way back to Manami's place, under the guise of "protecting" her young charge.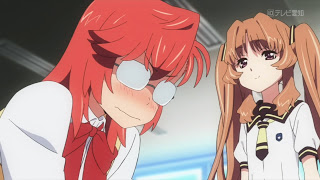 Of course, Ichika's feelings were pretty clear-cut by that point anyway, though her unique situation kept her from returning Kai's confession. I enjoyed the way Kai and Ichika sought out the advice of Tetsuro and Remon respectively for their "Boy A and Girl B", and "Woman A and Man B" chats, and the way Kanna saw only the awkwardness between Kai and Ichika – not the cause – and tried to reconcile them. Poor Girl C is pretty much oblivious that Boy A (who doesn't realize Girl C likes him) likes Girl B and vice-versa, but then there's Boy D,Tetsuro He's more in the know, but still seems to be focused on bringing Boy A and Girl C together even though he likes Girl C himself, and then there's Girl E, Mio – who likes Boy D, but can't bring herself to tell him because she knows he likes Girl C, who likes Boy A. Everyone in this story has a blind spot, which is damn realistic and one of the things I love about it.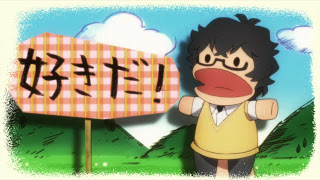 About the only one seemingly standing apart from this is Remon, and while she's entertaining playing the mischievously meddling sempai, I can't help but feel there's something more there. Either she has a more direct romantic interest somewhere in the kerfuffle than she's hiding (which I doubt) or she has a direct interest in Ichika's unique circumstances (which I tend to believe). The thing is, even without the sci-fi element and Ichika's hook I think there's more than enough here to make a fantastic 12-episode straight-ahead romantic comedy. Obviously those things (including Kaito's mysterious health issues) are going to be layered back into the story at some point, and I can see two ways that might go – either it'll elevate and already stellar romcom to God status, or the whole thing will end up being a bit of a too-busy muddle (though likely an entertaining one). That's where I hope the massive experience of the creative team will carry the day, and this Ano Natsu will realize it's full potential and be something truly special.
Looks like we're going to get another "lucky panda" moment next week. Mio, you bad girl!