Apparently it doesn't take a half-price sticker to start a Ben-to war, at least where Takasu Ryuji is concerned.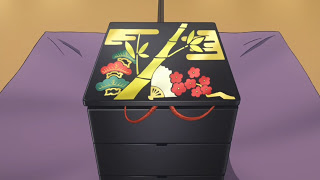 One of the most beloved romantic comedies of recent anime history returns with a new episode, and it was good to see old friends again. It's a bit of an odd feeling returning to a series after being away so long – better than three years since the series debuted, in fact – and seeing it look and sound much the same as it did back then. Toradora was a who's-who of anime talent – Okada Mari, Nagai Tatsuyki, an all-star cast, and an extremely popular source material. I liked it quite well at the time I viewed it, but I didn't love it as much as some, mainly because I really struggled with Taiga as a character. I suspect if I were to view the series again I'd probably enjoy it more, because 2008 was really the heyday of the tsundere trope and Kugimiya Rie was its poster girl. I was never a fan of either, and by the time Toradora rolled around I was so sick of both that I probably let that color my view of the show more than I should have.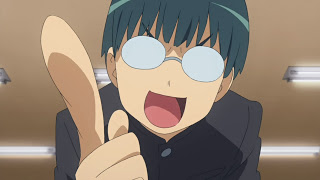 Frankly, I was – and still am – a Minorin guy. She's perhaps my favorite genki girl in anime history, and the biggest smiles I got out of this altogether pleasant BD extra episode came from hearing Horie Yui tear it up in the role once again. Most interesting for me was my evolution when it came to Ami, who I absolutely loathed when the series started and unabashedly adored by the time it was over. She was such a sad and lonely girl that all the bluster in the world couldn't mask her pain – it's a testament to the strong writing here that her true nature was rolled out so slowly and gradually over the course of 25 eps. So, though Ryuji was an excellent lead, I generally found the supporting cast more interesting than the main couple. I never warmed to Taiga, but by the end of the series I could tolerate her, more or less.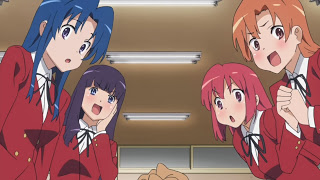 This episode makes no attempt to rewrite series canon or confront the main relationship issues head-on – it's strictly a comedy piece built around Ryuji's passionate – and futile – efforts to surpass Kitamura'-kun's Grandma Miyo in the housewife department. It's a pretty thin premise, but really, it's just an excuse to put these characters in pleasing situations where they can act like themselves, and there's nothing wrong with that. It's a solid, virtually iconic cast, and it's so nice to see them again after such a long absence that a thin plot is probably better than a complex one that would just get in the way of the nostalgia. I would have liked to have seen Ami get a little more to do, but on balance I have no major complaints – it was fun, and a really nice trip down memory lane.