One of the things that's always set Shinryaku Ika Musume apart from lesser comedies is that when it decides to go straight for the heart, it's aim is usually perfect – and this week's last chapter was proof that's still as true as ever.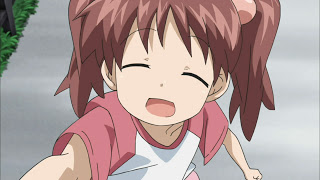 Before that, we had a couple of pure comedy chapters, the first of which captured the edgy and dark tone that's the other side of this show's genius. A little girl wanting to play house with Ika-chan sounds pure and innocent enough, but not when that little girl is Risa (Sudo Nanako, Reina from Usagi Drop). Risa's view of domestic life is somewhat skewed (indeed, this week's chapters play as a sort of critique of modern Japanese society). It starts simply enough with Ika as her father "Squid-Man", but each succeeding (and unwilling) participant who happens along – Eiko, Sanae, Kiyomi – turns into one of Daddy's illicit lovers. There's threats, passion, even a baby on the way (Kiyomi threw herself into that a little too eagerly) and of course Sanae being prompted to engage in role-play is a match thrown in the gasworks. Everyone (apart from Sanae, much too engaged in the fantasy to care) worries for Risa's home life, even Ika-chan, but as it happens the little girl is merely too big a fan of TV dramas her Mother really shouldn't be letting her watch.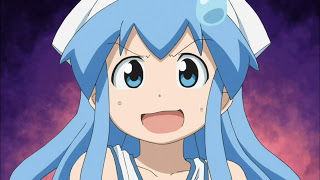 Next up is a light-hearted but engaging fluff piece that nevertheless offers some insight into Ika's slow immersion in the ways of the modern human. When the Aizawa Sisters give her a duffel and a planner they never use, Ika is naturally as thrilled as any small child when receiving a "grown-up" present – though of course she has no idea how either of them is supposed to be used. The planner consists pretty much of "Eat" and "Sleep" and the bag's contents consist pretty much of, well – the planner. After she gets some advice from Kiyomi she takes a little too literally, Ika starts living her life as a slave of her planner (and Eiko's borrowed alarm clock) before Eiko clues her in that life needs to be a little flexible – even if the planner says "Invade North America" there's time to play with Takeru or have a snack. Possibly the cleverest part of this chapter is the way it's ending ties into the final chapter…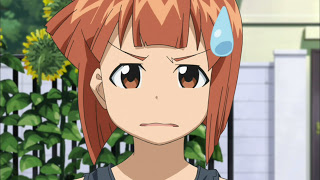 Which is clearly the best sketch of the episode, and one of my favorite "Ika" eps ever. It involves a trip to an amusement park (with Sanae thankfully having been lured by the planner to an onsen instead – she would have ruined the mood completely) for the sisters, Ika and Takeru-kun. Sounds simple enough, but the whole venture is profoundly sad in an understated way. It's bad enough that the park has had to slowly sell off all it's land due to the recession and dwindling attendance – the competition from "Mouseland" being a major culprit – and that the old man (Naka Hiroshi) who takes the tickets is also the one in the bunny mascot, and in fact the only employee of a park that has only one true ride left – what we in the USA call "The Teacups" but in Japan is apparently "The Coffee Cups". There's some levity in Eiko and Takeru getting ill as Ika thrives on all the spinning, but it's mostly wistful reflection – this is the park's very last day, another victim of creeping international corporatism and the endless recession. Even more moving, Eiko is prompted to remember the last time they visited the park, when she and Chizuru were small and Takeru was just a baby, and the park was thriving and packed with rides and games.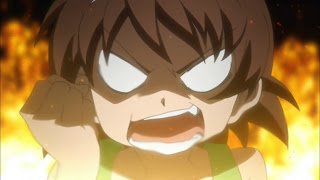 When most comedies try and pull off scenes like that, they go for too much and fail miserably, but Shinryaku Ika Musume has always been a show that nailed warm emotional moments – it comes from the genuine affection it makes you feel for all of the main cast and the deft and light touch the mangaka has with social commentary and matters of feeling. I really wonder at the story behind the Aizawa parents and what happened to them – it doesn't seem to be anything good – and there's a genuine connection to the way they're so close as a family and even took in the bizarre Ika-chan and made her a part of it. Any two sisters than can raise a kid to be as sweet and positive as Takeru is are doing something right, that's for sure. I loved the small-scale fireworks the owner sets off in place of a Mouseland parade, and his appearance in the ED in his bunny suit – it was perfect in a bittersweet way, and not even the postscript of him reopening the place as an escort club can disguise the genuine warmth of the writing. That was Ika Musume at its best.