Here was another episode I found entertaining and suspenseful, but I confess I find myself having a relatively hard time figuring out exactly what just happened. Whether this is an issue with the adaptation or the manga I'm not sure, but I don't think all of that obfuscation is intentional.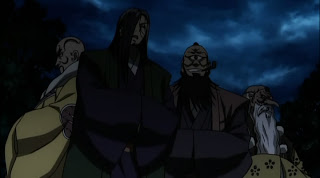 Mainly, what confuses me is this – how exactly were Minagoroshi-Jizo's goals different from Hagoromo-Gitsune's? It's been obvious for a while that there was a double-cross going on here and that Minago-J was behind it, but what exactly was its nature – or are we supposed to not understand that yet? It seems to me that the both of them were working towards the same goal – the rebirth of Abeno Seimei. Obviously Nine-tails wasn't expecting him to send her to Hell, but the whole point of her reincarnation cycle was to bring him back to life, wasn't it? So what exactly is the nature of Minago-J's double-cross? I can only wonder if there's a wild-card that hasn't been revealed to us – or has so long ago that I've forgotten, a quadruple-cross waiting to happen. Someone using even Nue/Seimei as a stalking horse, perhaps – an even more evil force manipulating Seimei into manipulating Nine-tails into giving birth to him?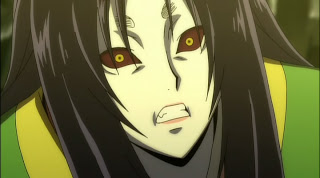 Some things are certainly clear now that weren't before. For one, Nine-tails latest host was a human girl who had direct connections to the Nura Clan. We've known for a while that she was the one who killed Rihan (the season-opening flashback made that crystal clear) it's now beginning to look as if she was no stranger to the Second Head. Was there a Nura daughter we're unaware of, perhaps? In any case Rikuo's memories have certainly come flooding back to him and it's clear he remembers the girl who became Hagoromo-Gitsune from the incident where Rihan was murdered. It appears that Nine-tails was extracted from her body before Nue sent her to Hell, so perhaps Rikuo will have a brief conversation with her before she dies.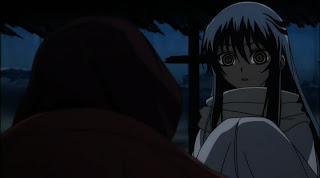 In any case Gyuki and the Great Tengu have finally arrived on the scene and Nurarihyon has said be plans to bring down the curtain on this play, so we've certainly entered the endgame. The first act appears to be the battle between Tsuchigumo and Nue, and that could be quite a sight to see. I suspect Tsuchi-G is plot fodder here – sadly he can't possibly win from a dramatic standpoint, so I only hope he isn't killed in defeat. He's one of my favorite characters and I'd love to see him make it to the end of the season alive. The other life that's currently in doubt is Mamiru, who's been run-through by Nine-tails and is as far as I know human – though he acts pretty robotic (I will protect Yura. I will protect Yura) so that can't be good for him. It was nice to see his step-sister finally step up with "Yura Max!" though it's hard to tell just how effective it was. It certainly interrupted Nine-tails train of thought just when her memories were starting to come back.