I think this was the episode that closed the deal for me – I'm now officially crazy about this series.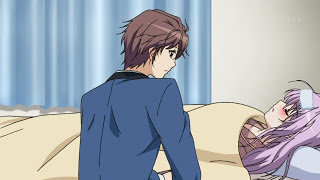 There's a lot of stuff about Mashiroiro that's unusual. For one thing, no matter how hard I look I can't find a character I don't like. It's not as if these aren't tropes – this is a VN adaptation, after all – but it's as if the writers sat down and figured out all the stuff that annoys me about each archetype and took it out. The male lead, the little sister, the tsundere, the maid – all of them are likeable and sympathetic. Miu may be the first among equals in this cast, but they're all a pleasure to spend time with. I don't know how much of the credit for that goes to Manglobe and how much to the source material, but I appreciate it either way.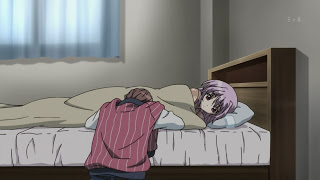 Perhaps the most significant accomplishment is that the show manages to be unapologetically sweet, very cute and kind-hearted without being treacley or cloying. That nice face works because it fits the material perfectly, as if it were an intrinsic and unchangeable part of what makes Mashiro what it is. In the same way Saber and Lancer cannot not be honorable, this show can't not be sweet, kind and nice. For me that's irresistible, and a big contrast from most of the series I end up watching. It's not as if this isn't a smart show and it doesn't talk down to the audience, but it's easy to watch and enjoy without working too hard or feeling conflicted. It's just good, that's all.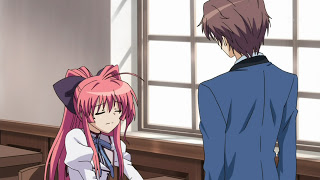 I'm hard-pressed to think of a more charming courtship episode than the one we were treated to here, and Shingo and Miu really sold it. While the separation of Shingo and Miu the kittens (a heartbreak I've been witness to in RL) obviously seems like a bad flag for their human namesakes' hopes, there was an awful lot of positive too. For one, Miu proved beyond doubt she's interested, and for another her Mom (yet another MILF graces our screens) gave her stamp of approval. And Miu now pulls even with Airi in the exposure to Shingo department (though the surprise was spoiled by a light beam hovering for no apparent reason in her living room). Miu is a miracle of nature, and I'm completely smitten with her – she's modest and charming and incredibly kind, and I loved seeing that bashful and awkward side of her with Shingo in her room and her Mom embarrassing her. The chemistry between Shingo and Miu is undeniable – "same color" or no, they're great together. If they're too much alike – the both of them kind and sensitive and responsible – I never saw that kind of compatibility as a drawback in a relationship. "Opposites attract" may make a good RomCom, but it doesn't usually work in real-life.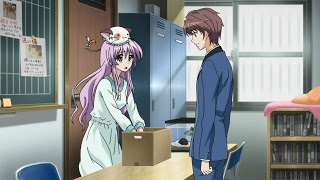 That I'm in love with Miu and pulling for her to overcome the odds and win doesn't mean I don't feel sorry for Sana. She remains the character closest to falling victim to cliché, but she had a great week here. I loved all of her talk about Shingo the "kitten" – how she would sleep with him and bathe with him and how he was a pervert, and even the candid photo she snapped of the two of them. Her facial expressions this week were like a second soundtrack running under the episode, always revealing exactly what she was thinking. Shingo does have the one MC trope of being clueless to the signs so he seemed blissfully unaware of her feelings, but the fact is there's no evidence he has any romantic feelings for her, and every evidence that he's strongly interested in Miu. I don't think she has a prayer, but it was still sad to see her finally break down in tears about it at the end.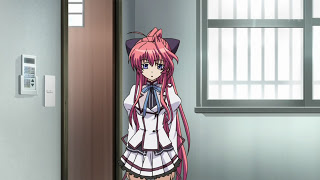 No coincidence, I think, that it was when she met up with Airi that her emotions finally broke out. It's tempting to see that as the sad meeting of two romantic losers, but it's nowhere near that simple. Sana's heartbreak has been playing out for three episodes but Airi has been almost totally absent, and she's way too important to the story not to reclaim a leading role in the last three. Her emotional journey was the backbone of the first arc, and I'm still convinced she has the inside track on winning Shingo in the end. Even if that's not the case, she's going to have her say in what happens, and I don't expect her to go down without a fight. As admirable and likeable a girl as Airi is, I can't imagine anyone choosing her over Miu – but I'm not the one doing the choosing, and the number of times my choice has been the winning one in shows like this can be counted on one hand. But because I like Airi too, and all the rest of them, it's not going to anger me as much when Miu loses as it might in a lesser series.