If I never see an adaptation of a romance game or VN better than Mahsiro-iro Symphony, I'll be pretty content in that I've seen a studio get at least one just right.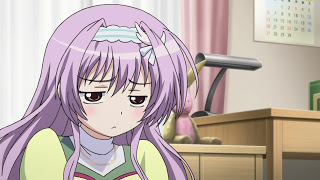 I'll be writing two series reviews today for shows that have something highly unusual in common – my opinion has improved from the first episode to the last as much as it has for any anime I can remember. This is one and UN-GO the other, and it's remarkable how two concurrently running series can become so much more than I initially expected them to be. While Mashifoni is by no means a perfect series, in the end I found it impossible to resist. Rather than love at first sight, this was a slow build – a pleasant affection for a friend slowly growing into something much more powerful.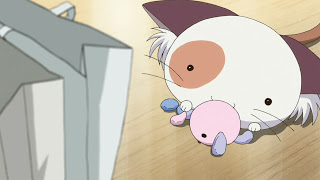 I won't list all the bad, indifferent and truly execrable romance adaptations that have graced our screens in recent years, but it would be a long list if I did. A hell of a lot longer than the list of good ones, anyway. True Tears might be the best, but that's such a dramatic retelling that I consider it more of an original than an adaptation. Mashifoni was special for a lot of reasons – perhaps most pleasing from a selfish standpoint, it settled on the girl I absolutely loved as the romantic lead despite the fact that in doing so it defied every anime trope in the book. Perhaps most pleasing from an objective standpoint was that it never, ever stopped surprising me. And it wasn't the sort of shock-value surprises we've seen in shows like MPD, but the surprise in never taking the low road. In never humiliating its characters or having them act stupid. And by having the kids at its center stand out by acting so refreshingly normal, and not like cartoon characters.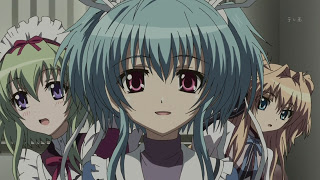 I was absolutely, rock-solid convinced Shingo would end up with Airi. She met every requirement – she was the "main" girl. She was the first girl to enter the MC's life. She was a tsundere (though a mild one). But while it turned out Airi was most important to the plot, Miu was most important to the romance. Now I know there's an Airi route in the source material – among others – and the thing is, I would have been fine with Airi as the "winner" here. But what I thought I saw but thought was the result of bias turned out to be very real – for all his interaction with Airi, it was Miu that Shingo had romantic feelings for, right from the beginning. Sana got into the mix, too, and while she was very important in the sensitive telling of a tale of first-love heartbreak, she was never really in the game as a serious contender.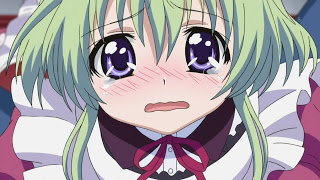 Miu, oh Miu – what a wonderful character you were, right from the beginning. So elegant and serene and refreshingly free of all the BS we see from anime female leads. Yet it was as we got to see the other side of Miu – her shyness around Shingo, her fear of loss, her self-doubt – that I truly fell in love with her as a character. For Miu, I think, giving is a way of not thinking about herself. She gives to the animals, to her friends, to her job, does it all because it's the kind and mature thing to do, but really she also does it because she's so full of self-doubt and she's so afraid of losing things she emotionally commits to. She might be a bit of an ideal, but Miu was even more beautiful as a flawed diamond than she was as a perfect one.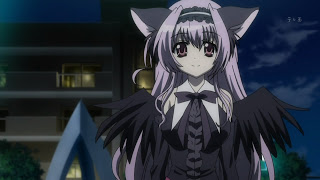 Her counterpart in all this Shingo, also resisted the pitfalls of the male lead. He wasn't an idiot, or a sex fiend. When he saw that others needed help, he stepped in and did what had to be done without calling a lot of attention to himself. While he was certainly possessed of a libido and certainly capable of embarrassment in the stock embarrassing situations, his reactions were never over the top. He's just a good guy, plain and simple – not a superman or a saint, just a caring and kind fellow who treats everyone by the golden rule. This was the downfall of Airi and Sana, of course, who saw his gentle nature as romantic attention focused on them. And like R-15 did, Mashifoni turned the spotlight on the odd girls out in the romantic drama and treated them with as much respect and attention as it did the romantic leads. Though their coping mechanisms were dramatically different, each girl dealt with the pain of losing their first love in a realistic way that didn't gloss over or over-romanticize it. It sucked – but they'll get over it. Life goes on – the school still needs a leader, and the Nuko Club needs a new President. And now that the notion that all guys are trash has been disabused by real-world experience, there will always be more boys to fall in love with. I think both of them will be fine.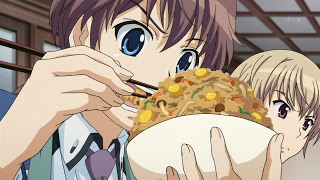 Mashifoni was certainly slow-paced, and certainly took its time getting where it was going. But more so than in almost any romance adaptation, hindsight reveals that it had a clear path from day one and never wavered from it. It was never flashy – the wonderfullness of the animation and backgrounds and BGM crept up on you slowly rather than bowling you over. It was the whole series that mattered more than any one part of it, and that's why the finale dealt as much with Pannya and the school merger as it did with Shingo and Miu. Rather than a "romance" this was really a life drama that happened to have romance as a big part of it – much as real life tends to be. I'll always admire series that rise above cliché and over a truly individual experience, and Manglobe has definitely given us one here.