I don't know just exactly what Pannya was – even if he's a boy or she's a girl (thanks, confusing subs) but I know the little furball totally broke my heart in the finale.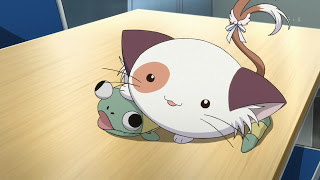 We have our answer – it was a Pannya end, after all. Since it didn't really do anything else by the books, no reason for Mashifoni to go conventional for the ending. While the romance was certainly a critical component and became a huge part of the dialogue about the show, it was always about much more than that. It may seem odd to have a "harem" adaptation end on an episode about the mysterious nuko creature and the status of the school merger, but I thought it fit quite beautifully. The series came around in the end to what it was about in the beginning, and did so while still giving a nice benediction to the blossoming relationship between Shingo and Miu.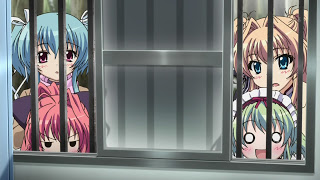 The moment everything in the finale really clicked for me and a few tears started to flow was one I suspect probably whiffed with a lot of the audience, and that was when Miu was talking to her Mother about whether she'd been afraid when she brought their two cats into their lives. If you've not had pets you were attached to you just won't get what a cutting question that is for those of us that have. I've had cats in my life non-stop until I moved into a no-pets building a few years ago, and that nagging doubt was always in my mind – is it worth it? The pain of losing a cat who I loved (and that's all of them, really) is some of the most agonizing I've ever felt. Yet as Miu-mama said, there are so many wonderful moments along the way that you remember just as much as the pain. That equation was always foremost in my mind whenever the thought of getting a cat came up – is it really worth it, knowing I'm going to go through all that again?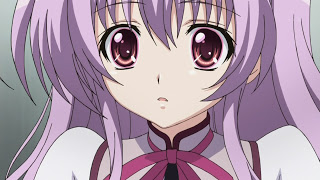 Now I won't deny that there's some serious symbolism in that line of thinking, and it doesn't just apply to pets – but it's powerful enough even without dragging all that other stuff into it. And it provided a bittersweet backdrop to this finale, as Miu faced the agony of giving up Pannya, who was so much more than the club mascot to her. It's no coincidence that it was Sana who was so strongly in favor of returning Pannya to his mother (and apparently, younger sibling), given that she'd just experienced the pain of letting go of someone she loved because they needed to be with someone else. But the key thing for Miu was that she now has Shingo with her to bear the weight of all the stuff she normally takes on herself and pretends doesn't bother her. I like the vulnerable side of Miu (well, I like all her sides) – she's even more admirable and appealing to me when she lets herself be weak. And I like the fact that she's no willing to be a little bit open about her feelings when she's in pain, thanks to Shingo.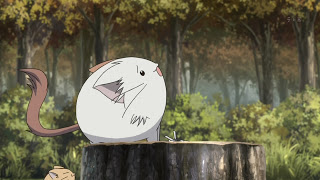 The parallel thread was the ongoing problems with the merger. While this one is left hanging to a certain extent, it does do a lot to illustrate just how much Airi has changed over the course of the series. Even her mother notices how much she's grown, and she's now the one leading the charge to overcome the resistance on the part of the boards of both schools. We don't get a great deal of background on why all this was happening, but it's clear Airi has taken a larger view on the role of the leader, and her newfound commitment to bringing the schools together seems genuine. She hasn't even had the luxury of sharing her pain over losing Shingo with a friend – she's totally alone in her knowledge of it – yet she seems to have moved on in a way Sana hasn't quite done yet. Airi might not have "won", but she remains a likeable and complex character, and she's no less important to the story merely because she's not the romantic lead.
I'll go into more detail about everything I ended up liking about the series as a whole in my series review, but Mashifoni has given us a finale worthy of its outstanding run. It was emotionally spot-on, approachable and relatable, and as honest and heartfelt as the rest of the series.