Let's start out with the positive – the "Kira" OVAs continue to move in a positive direction. The second was better then the first (being attacked by chiggers would be better than the first) and this one is better than the second.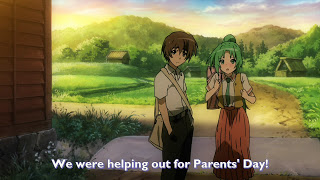 I'm not a huge fan of Higurashi in pure comedy mode, and it's not because I don't love comedy – even as a change-of-pace for a normally serious show – but because this one doesn't normally do it all that well. But it appears all the "Kira" chapters are straight comedy, and this one was certainly the best of the three so far. It's pretty darn low-key by Higurashi standards, where the core stories are generally dark and despairing and the comedy ones rely heavily on extreme ecchi and humiliation. The focus is on Keichi's harem, which can be an agreeable subject when the series takes a crack at it, and this is mostly a mildly enjoyable romp through romantic misadventures and identity theft.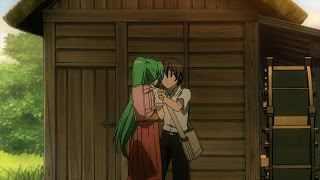 Of course that means Mion and Shion are involved. I guess I'm in the minority but I always liked Shion better than her sister, so when she decided to impersonate Mion on order to "help" her with Keichi, I had high hopes. And indeed, predictably, Shion does develop feelings for him during the course of role-playing her sister, though she's still troubled by the notion of betraying her feelings for Satoshi. Of course Mion and Reina see only the tail-end of this and assume the worst, and this sets off a chain of events leading to Keichi being forced to choose his new girlfriend in a sort of romcom version of "pin the tail on the donkey".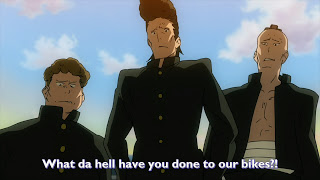 Probably the most successful comedy of the episode is seeing Rika and Satoko turn into evil little demons and exploit this situation for their own "Village of the Damned" style amusement, much to the horror of Hanyuu who plays the goody twoshoes role to perfection. To be honest I could listen to Hochan saying "Auu!" over a toothpaste commercial and that would be enough for me, but that dynamic worked well here – though I was a bit surprised to see Hanyuu materialize next to Keichi and the two of them have a conversation as if that was the most normal thing in the world. As for who Keichi chooses, well – nominally, let's just say the choice is a bizarre one that keeps up the nearly perfect record of Keichi never ending a Higurashi story without getting humiliated. But there's also a strong hint that his real choice is the one that always seemed inevitable.