When you factor in sheer originality, writing, visual artistry and flat-out cool, Gankutsuou surely has to rank as one of the better series of the 2000's. It's a strong reminder (and we could all use one about now) of just what a fascinating and productive studio Gonzo could be in their heyday.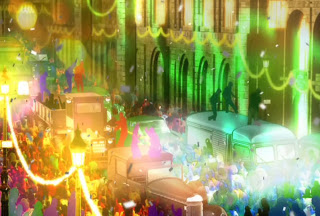 One of the concessions I've made in order to blog full-time is that I don't get to watch as many older series as I'd like. The number of series I've discovered this way is too numerous to count – Hikaru no Go, Dennou Coil, Capeta and my all-time favorite Seirei no Moribito are only a few of the shows I was only able to watch years after their airing in Japan. And Gankutsuou may be the last one I'm able to fit into the schedule for a while, which makes me rather sad because it serves as a reminder of just how much classic anime I'll be missing out on. It's almost enough to make me hope Winter is a weak season that only gives me six or seven shows worth following, so I can dig into the bucket list and cross off a few more items.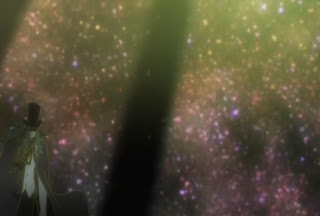 At 24 episodes, this is a series that would prove well worth your time. When it was an industry powerhouse Gonzo was a studio that had some hallmarks apart from botched endings – one of them being an interest in re-making classic material in a futuristic, sci-fi setting. This involved turning "The Seven Samurai" into a mecha series of sorts, updating "Romeo & Juliet" with epic fantasy elements, and this series – a very loose adaptation of Dumas' legendary novel. All of those series are noteworthy in their own way, but I would judge this one to be the best of the bunch. It works both as a science-fiction story and as an elemental tale of revenge, and provides some of the most eye-catching animation of any TV anime.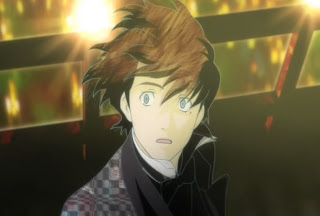 For the series, director Maeda Mahiro offers a wildly colorful mix of techniques and styles. Both 2D and 3D CGI are used extensively, Photoshop textures are used to stunning effect and the hand-drawn cel animation is superb. The result is a surrealistic look that demands your attention and never surrenders it. I'm especially entranced by the animated clothing the characters wear and the exquisitely detailed backgrounds – tapestries, frescoes and pillars. Paris in the year 5053 is rendered as a mix of futuristic, almost steampunk technology mixed in the gray pallor of a very old city that's seen better days. The music is striking as well, with the episodes filled with classical piano, orchestral and opera pieces and the OP and ED provided by Franco-British composer/performer Jean-Jacques Burnel. Singing mostly in English, Brunel's pieces suit the material perfectly, especially his haunting OP "We Were Lovers", used brilliantly by Maeda-sensei to offer a benediction of sorts in the final episode – an episode that, unusually for Gonzo, gets the ending just right.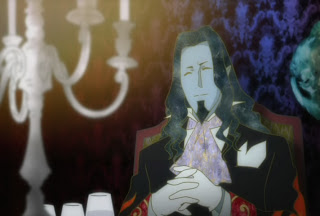 Fundamentally, this is a story of revenge, and it's the thirst for revenge which drives the narrative. But in the execution it's nothing quite so simple as that, and it's clear from the beginning that nothing is ever as it appears with the mysterious Count of Monte Cristo (Jouji Nakata, in one of the most phenomenal seiyuu performances of all-time). The Count's foil in this tale is a 15 year-old Parisian aristocrat named Albert de Moncrief (Fukuyama Jun). Pampered and naïve, Albert is a kind but rash boy, easily swayed by the charms of the urbane and obscenely wealthy Count. Their first encounter comes during a trip to the Venice-like colony of Luna Albert takes with his best friend Franz d'Epinay (Hirakawa Daisuke). Franz is the same age as Albert but seems much older, and it's obvious from the moment we meet the boys that Franz takes on the protector role with the feckless Albert. When that trusting quality gets Albert on the wrong side of a local gangster, it's The Count who generously comes to his rescue. Of course the entire encounter has been engineered, and it sets off a chain of events that test the boundaries of fate and faith – and love.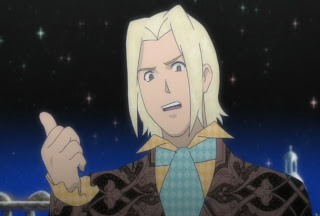 The story is a Byzantine one, taking many twists and turns along its route, one much better seen than described. Suffice to say it touches on many themes – corruption, loyalty, the hypocrisy of the upper classes, and the divide between generations to name but a few. There's always something interesting going on, and the implications and interactions are always subtle – the story is constructed well enough that it's easy to follow, but keeps surrendering more fascinating depths as you consider it more deeply. What seems obvious in terms of good and evil reveals itself to be much more murky than you might imagine, as the secrets of the past are brought into the light one by one and lives are changed forever. The cast includes the arranged fiancées of Albert and Franz, their parents, a Parisian muckraker and an alien Princess, among others, and like in a giant jigsaw puzzle each piece fits perfectly in a way that's only apparent when you've reached the very end.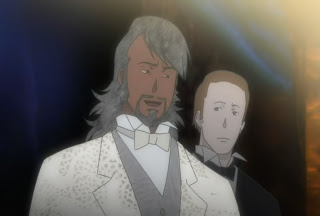 I don't think there's any question this is the sort of anime that isn't being attempted much anymore, and the Gonzo that created it really no longer exists. Having barely survived a harrowing financial odyssey, it's easy to see the creative concessions they made in Last Exile: Ginyoku no Fam. Like the original "Last Exile" Gankutsuou is a series that demands close attention and rewards patience, and one that seems aimed at the general populace much more than at traditional viewers of anime. It's an open question as to whether or not such a show could be successful now – would enough anime fans support it, and is the problem simply that studios aren't giving them enough credit? Judging by "Fam" it's clear that Gonzo doesn't think so, and based on the poor financial results of other mature and subtle anime it's hard to argue the point. Yet, Last Exile was undoubtedly a success eight years ago and Gankutsuou a modest success a year later. Perhaps the problem is that the economy leaves studios unwilling to take chances (just look at the devolution of the NoitaminA block) or perhaps it's a larger issue, that the viewer base for anime has changed in such a way that series like this are no longer viable. In any case, if it's no more than a relic of another time, Gankutsuou is a damn good one – and a series that any serious anime fan should certainly get to know.