No current series can make a simple conversation into high art like this one can. But I've never felt frustrated by the lack of foreknowledge of the mythos more acutely than this week.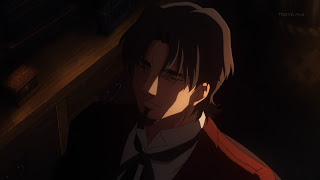 So here's what the episode boiled down to – and kudos to ufotable for correctly thinking they could get away with it – two conversations. Mostly, it was a conversation between Gilgamesh and Kirei in the basement of the sanctuary church, but there was also a parallel conversation between Iris and Saber, with only a very brief appearance by Maiya and a short scene of a pensive-looking Kiritsugu banging back a burger and chain-smoking while looking at his maps and trying to figure out why everything isn't behaving exactly according to his predictions. Coming on the heels of last week's near-total focus on the conference of kings, that's two eps on a row almost entirely dedicated to people sitting and talking to each other. That's damn ballsy, and if you're going to take that approach those conversations better be packing some serious weight.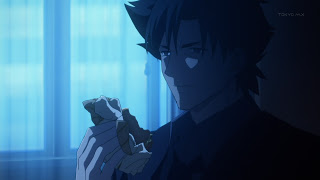 Thankfully, the guy drafting the dialogue is Urobuchi Gen, so we have that covered. But while last week's conversation was utterly fascinating and focused on larger philosophical issues, this episode felt a lot more like an inside job to me – it seemed as if there was an awful lot of stuff in there that a F/SN veteran would know immediately that I'm left to try and puzzle out. Perhaps I'm wrong and I'm simply surprised that any anime would demand so much of it's audience, but I felt like my brain had to be working 100% just to keep up with the permutations of both threads, especially the one featuring Archer and Kirei.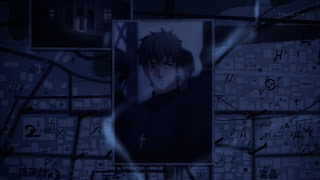 It occurred to me weeks ago that if I were Tohsaka, I wouldn't want Archer spending so much time with Kirei. Gilgamesh is, for me, the most dangerous entity in this series. Not just because of his "beyond category" noble phantasm (which may or may not be more powerful than Iskandar's) but because he seems to take great delight in manipulating others for his own gratification. Combined with his staggering ego this makes him a live wire to say the least, and the seeds he planted a few eps back seem to be bearing fruit, if I'm reading things correctly. Thanks to a too-convenient lecture by Kirei I now know the rules of the Grail War include the possibility of a master who's lost his servant being awarded additional command seals, and even contracting with an "orphaned" servant to get back in the game. That's why if you're a master, killing a rival is much better than disabling them – as I suspect Tohsaka is about to find out. Assassin's death was confirmed by the absence of command seals on Kirei's hand, but he's awarded another one – indicating that the Grail still has a use for him.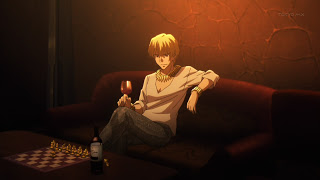 I can only conclude from Archer's words and the imagery of the chess board that he's proposing that Kirei kill Tohsaka and form a contract with him. I knew Gilgamesh was somewhat derisive towards Tohsaka but I wasn't certain whether that was his general arrogance or specifically pointed at his master. The ethics of the game obviously wouldn't matter to him, but I'm still surprised Archer is apparently so direct about his intentions. I've known he was manipulating Kirei for a while, but this was still pretty bold stuff, and his appeal to the dark side of Kirei's nature seems to have struck a nerve. Kirei seems more than anything to lack any strong sense of self, any will or direction – and I think Archer sees that and is inserting his own will into the vacuum. I still don't quite get what the purpose of his pushing Kirei on his interest in Kariya is, or even exactly why that interest exists, but it's obviously something in Kirei that's deeply rooted and Archer has just as obviously spotted it as something he can exploit.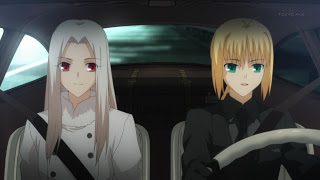 As for Kiritsugu, he, like Tohsaka, seems to be totally dismissing Kariya as a real threat in the Grail War. I think they're both wrong, because a half-mad master and a chaotic evil berserker servant are just about the ultimate wild card. And Kiritsugu has more than his share of problems. In addition to generally losing control of the war, he's not nearly as strongly in control of his own servant as he should be. Saber will follow her honor, no doubt, but her true loyalty obviously lies with Iris. And Iris is in trouble, though she dismissed it as being "ill". Ill to a homunculus means something different than it would to a human, and she's disabled her sense of touch because she was in so much discomfort that she couldn't continue to function in the Grail War otherwise. I suspect larger issues there, and I'm also suspicious of why Kiritsugu chose the old Bukeyashiki for their new base. Iris suggests it's because Iris once said something about wanting to see an old mansion, but all through the scenes there I could sense there was something more to the place. The lingering close-up of the key to the old kura Iris chooses as her magical HQ implies there's something special about that place, specifically. My guess is that Kiritsugu knows about it and neither Iris nor Saber does.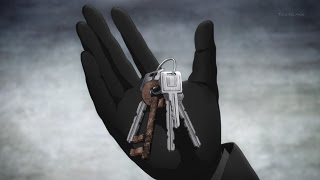 But then, I had that same sense that there was more than meets the eye through most of the episode, which was a tad frustrating. It seems very likely that we're not going to see any more major shake-ups or a real "ending" to the first season, as we're down to the final episode. With only Assassin eliminated and his master still in the game, I'd be surprised if we didn't go into the break with all of the main players still in the game, leaving the Spring cour to thoroughly shake out the winners from the losers. I would assume that season is going to be much more action-driven than this one was, as the focus shifts from foreshadowing and setup to all-out conflict and resolution. As to whether I'll end up liking that more or less, I'm not confident in predicting either way – this season has been very distinct and I can only guess the second will be more conventional.