I certainly hope I don't hear the old "too much dialogue" complaints being levied against this episode of Fate/Zero, because for me it was a perfect example of how a series can be exciting and adrenaline-pumping without a ton of traditional action.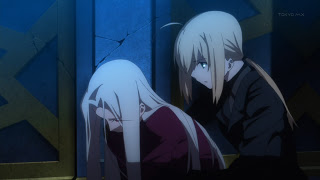 For me, this was Urobuchi Gen at his best. As a writer, Urobuchi has a rare ability to combine elements that appeal on a purely sensory level with big ideas – pulp and intellectual content blended in a way not that many other writers can. This was a sort of grail geek's "fantasy foursome", or "who would you invite to your dream dinner party?" The notion of Gilgamesh, Alexander and Arthur getting together to chew the fat over a barrel of wine is interesting enough in its own right, but when you factor in what a fascinating contrast the three of them are, it's doubly irresistible. And if you'll pardon my bias, it seems to me that Rider verbally kicked Saber's ass.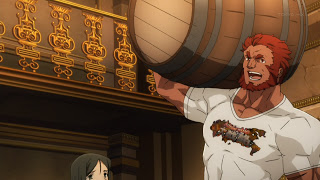 If I were to pick out a few favorite moments from the "banquet", I think they'd center around Rider and Saber's debate about the role of the King. When Arthur suggested she'd use her grail wish to undo her impact on history and thus (hopefully) save Britain as she knew it, that exposed a fundamental chasm in their respective viewpoints. When he offered that he would never regret anything that happened during his reign, even the dissolution of his empire after his death, she was shocked – to which he unforgettably replied "I would grieve, and I would weep – but never regret!" That summed up Iskander the Conqueror's worldview perfectly. Arthur, by contrast, "walks the martyr's path" in her own words. I think Rider is right to ask if that's really doing the right thing by her people. In his view, the King has to be the extreme of everything that his people are – the most good, the most evil. Saber clings to the notion that a King has to abide by an absolute code of morals (in her case a variation on the "Old Code of Chivalry") even if that means they walk the path of loneliness and death. I think there's truth in both views, but if this had been a debate Rider would certainly have been declared the winner on presentation.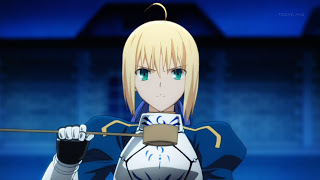 Of course, while this debate was happening Archer – having provided a power-up for the wine and three goblets – mostly sat and silently smirked. He's especially good at that, and the sense is that he's so sure that he's superior to these pagan pretenders that it would be beneath his dignity to even engage in argument with them. His position is simple – he's the King of Kings, and as such any and all treasure belongs to him by rights. That includes the Holy Grail as well, of course, and this banquet that Rider has called is really just an entertainment for him – that, and an opportunity to sit quietly and gain the measure of his opponents.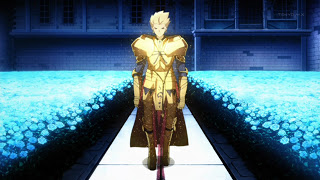 When Tokiomi's Assassins show up to crash the party, that brings and end to the social niceties and allows Rider the opportunity to finally show off his noble phantasm. And it's quite a trump card – he can call forth a "reality marble" that gives physical form to whatever environment he's imaging in his mind. And once there, he can call upon the legions of followers of his lifetime (even his horse) whose loyalty to Iskander is so great that they follow him unquestioningly, even in death. This appears to validate his view of the role of a king, at least to an extent, and it certainly gives him a formidable weapon at his disposal. In his belief system he exists as the personification of the loyalty, adoration and envy of his people, so it's only fitting that they should constitute his finishing blow. We've seen Assassin die before, of course, and especially judging by Rider's reaction I suppose it's safe to assume he's not really dead here either. I still don't fully understand Assassin's nature, but I'm assuming if even one of his endless aspects is held back and not killed, he can recreate all of them even if "killed". In any case, it was quite a bloodbath in that marble as the others stood by and watched in shock and awe.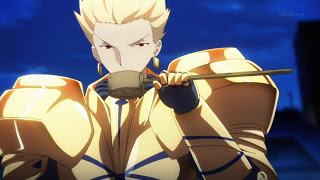 One thing that puzzles me a bit – and maybe wouldn't if I were more familiar with F/SN – is the notion of the servants arguing over what they would do with the Grail. It's an interesting element to the debate – what Saber sees as Rider's selfish desire to use the Grail to give himself a new body, he sees as his duty as a king. But it isn't for the servants to do anything with the grail, is it? It was my understanding that it was the master's decision as to what the Grail would be used for, and the servant's role merely to help them obtain it. It makes for a compelling basis for the Kings to argue their respective worthiness to take the Grail, but only as an academic exercise – if the Grail is not theirs to use, that is. Even if Rider or any other servant were to try and usurp the Grail after winning the war (and why talk openly about that with your master 10 feet away?) the master could simply use the command seal to prevent it. Perhaps the meaning of Rider's question will become clearer in the final two episodes.