After a retro-styled episode last week, Shinryaku Ika Musume returns to its normal S2 pattern by giving us three more conceptual and linear chapters, but they did retain that twisted element that was somewhat more subdued until last week's episode.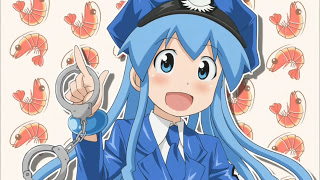 First off, we have a story of Ika-chan home alone, which Eiko and Chizuru out to know by now is a really bad idea. But no, they leave Ika alone to watch the house even though the neighborhood has been beset by burglaries (which seem to be much more common in anime than in real-life Japan). And just like last time, Ika finds solitude a singularly unpleasant state for her mile-a-minute brain. Things get interesting when a real-life burglar shows up, who Ika mistakes (for some reason) for Chizuru's father. Now why she came to that conclusion but then didn't connect the dots to him being Eiko and Takeru's father too, I'm not sure – but he's only too happy to play along, even believing for a time that Ika is a mastermind of a yakuza gang herself. I was really hoping one of the sisters would shed some light on the question of their parents when Ika rushed to Lemon to tell them, but no – nothing but mystery remains there. It's up to creepy Sanae's creepy security camera to save the day and catch the robber, but he at least has the consolation of showing up in the ED sharing a romantic sunset with the arresting officer.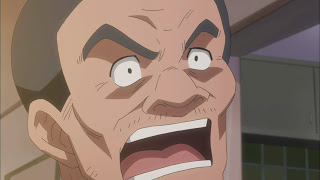 In the second episode Ika-chan finds herself lured into a cage trap by Harris, Clark and Martin using squid, and it's only Eiko's threat of calling Chizuru that scares them off. Ika decides she's got a shrimp on her back – yes, she's a junkie, a shrimphead, and decides to go cold crayfish. Not even creepy Sanae in her creepy giant shrimp suit can knock Ika off the lobster wagon, though she's seeing shrimp all the time everywhere, and even decides to go deep-sea fishing with disastrous results. In the end she's got a Jones that only shrimp can satisfy, so to thine own squid be true.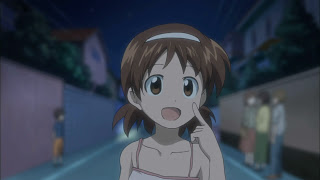 Finally, we get one of our occasional scary chapters and once you hear that, you can assume, Sanae is going to play a major role. When Ika-chan collapses from heat stroke (kinda surprising that doesn't happen more often, actually) she wakes up in the beach infirmary, where the nurse tells her she won't be able to get up for 30 minutes. Things go from bad to worse when creepy Sanae shows up as a victim of heat stroke herself, and from worse to worser when an emergency calls the nurse away and Ika is left alone and immobilized with her stalker. In actuality, most of the terror is in Ika's own mind this time, as Sanae really does appear to be sick and really does seem to restrain herself from jumping Ika while she's laid out – but it's the absurdly over-the-top scary BGM that really sells the scene.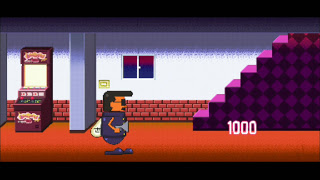 All in all a pretty decent if unspectacular episode. Generally speaking a little Sanae goes a long way, and there was way too much of her this week (and for that matter, where the heck is Nagisa? I like her much better and she's been AWOL for weeks). On the plus side, Ika-chan as the cutest cop ever might have been my favorite of all the OP cosplay moments this season.