Not that anyone should care, but the first chapter of tonight's episode was like a travelogue of my first visit to Japan…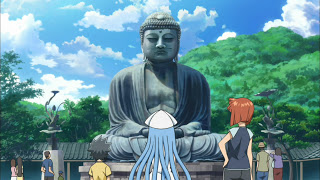 The mystery of Shinryaku Ika Musume's setting is solved, thanks to a sightseeing trip Eiko and Takeru take with Ika-chan after Chizuru's running has worn them down. It's somewhere in the vicinity of Kamakura, in Kanagawa Prefecture, an hour or so Southwest of Tokyo. I'd guessed the setting was further South, but there's plenty of water – Kamakura is right on Sagami Bay, on the Pacific Coast side of the country. It's a lovely place and a wonderful day trip from Tokyo, a former capital of Japan and full of gorgeous and historically important shrines and temples. I visited many of the places the threesome visited in the episode, and in fact I was inside the very Daibutsu – great Buddha – they went inside (25 yen). Look familiar? He's an impressive sight, that's for sure, even without his own yakuza squad of mini-Buddhas poised inside.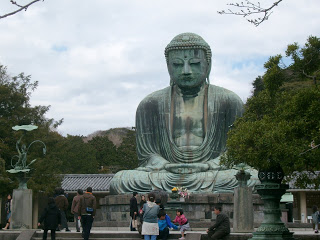 Of course, that means that Chizuru ran about 30 miles (maybe more) to get to Hakone, the first onsen I ever visited. And that was half her normal distance?! Eiko was right, Goro had no idea what he was getting himself into. I suppose she was still worried about the weight she gained as revealed in the Ika-chan magic bracelet episode. Poor Goro – he really should set his sights lower. But if you ever get the chance to visit Hakone, that's a pretty nice place – I recommend the train, though, unless you're in really God-like shape.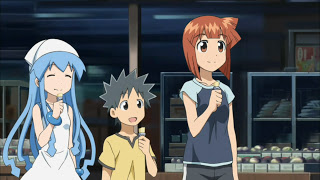 Our second skit was pretty much flat-out slapstick, as most Sanae-based numbers are. Ika's increasingly dedicated band of boy followers has formed themselves into a sort of super sentai secret service squad to protect her, especially from Sanae (which seems like a good idea). Alas, Sanae has the lads beat in the obsession department – not everyone will take a turd for someone – and soon maneuvers her way into Ika's service as her "SP", protecting her from… herself. This is a pretty silly chapter and the laughs aren't huge, though it's always fun to see Sanae pummeled. And it's interesting to see her doing it to herself literally as well as figuratively.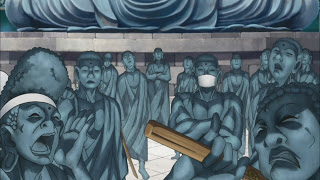 The highlight for the viewers who aren't nostalgic travelers was doubtless the third chapter, which brings the long-awaited return of a full-length Mini-Ika sketch. And it doesn't disappoint, proving every bit as cute as her appearance in the first season, though nowhere near as sad. Seriously, Mini-Ika is just impossibly, Yune-caliber kawaii, and it's incredibly charming to see her borne away on a gust of wind and fumble her way through a series of misadventures, "Borrowers" style, before reuniting with Eiko. Some of the art in this sequence of frogs, flowers and raindrops is really beautiful. The WTF moment – this is a show that likes to end on WTF moments – comes when it's revealed that it was Goro who had the Mini-Ika dream this time. A special bonus was the ED, a frame-for-frame version of the regular one with Mini-Ika standing in for "regular" Ika.