Well, the pieces have certainly all come together but I'm still nowhere near certain how they all fit together. As big as this arc is, I'm not sure even two cours is going to be enough to finish it properly. Rurouni Kenshin needed 30+ episodes for its Kyoto Arc, after all.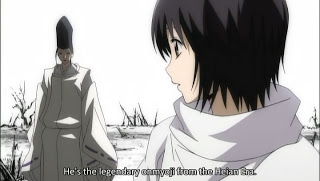 It's looking like Nurarihyon has managed to pull of not one but two top boss trolls with this story. For a long time it appeared as if Hagomoro-Gitsune was the villain of the piece, though there was always that nagging uncertainty about Minagoroshi-Jizo. Then it seemed as if we'd been tricked, and the actual villain was Nue aka Abeno Seimei. Not it appears as if even he's merely a tool in the hands of a greater evil, and that's Minagoroshi. At the very least the old youkai's been acting behind the back of Kidomaru and Nine-tails' other underlings, but the fact that Tsuchigumo himself – who was there a thousand years ago – didn't recognize him pretty much cinched the case. The big question now – is Minagoroshi responsible for this plan to use the reborn Nue for his own ends, or might even he be working for someone else?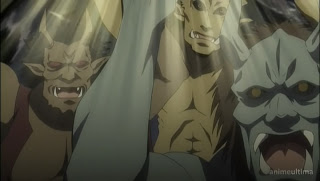 Whichever the case, there's no question that it takes some very powerful magic to alter the memories of everyone who works for Nine-tails. If Tsuchi-G hadn't been awoken there's a good chance no one would have known about the deception, but I suspect that bit of bad luck is going to lead to Minagoroshi's downfall. As for the big fella, all he really wants to do is fight Nue, which is why he steps in and stops Ryuuji when it looks as if his plan to seal the reborn Abeno Seimei just might work. He even offers to baby-sit the cherub so that Hagoromo-Gitsune can have her final showdown with Rikuo without having to worry about her child.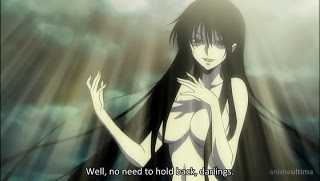 And that's quite a fight – the episode is full of them. Rikuo has certainly remembered that Nine-tails is the one that killed his father – though interestingly, she seems not to remember it herself. Could that be another result of M-J's mind control? Rikuo and Kurotabo must surely be a little spent after a tough battle with Kidomaru, but Nine-tails –who's come straight out of the delivery room and changed into schoolgirl cosplay – is a tougher opponent than he is and there's no time for rest. Nor is there much chance of aid, as the rest of the Night Parade and the Tono youkai are busily engaged in a total free-for-all mêlée between the Edo and Kyoto youkai. And Ryuji and Yura seem close enough and strong enough to possibly offer any assistance.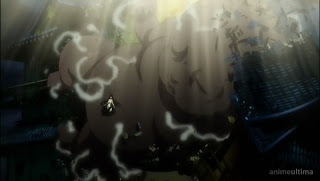 The wild card in all this is Grandpa Nurarihyon, who's emerged from his hiding place in the Kamo River (much to the disapproval of Karasu-Tengu) to make sure his grandson isn't in over his head. Judging by the way he's sniffing the air I suspect he's already realized that something is out of place in all this, most likely Minagoroshi-Jizo. Does he recognize his scent, or simply the fact that there's a scent he doesn't recognize? In fact, just about the only players who haven't entered the game (aside from the Kiyo Cross, and let's be honest – no) are Gyuki and the Great Tengu of Mount Karuma. It was the Tengu, if you recall, who was the first to bring the incongruity of Minagoroshi's existence to the attention of the good guys. Oh, and mustn't forget Hakuzozu – though he's been missing so long it's easy to – as I predicted way back in episode 11 he'd end up helping the good guys.