The last four minutes of this episode probably explained more about what's really happening this season than the previous 19 put together…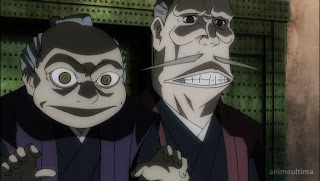 I'm not going to be hard on this episode, as it was thoroughly entertaining if not quite as much so as the last two. And I think this was as good as I've seen a DEEN anime look for a long time – really interesting artwork and fluid animation. I just question whether it was the best option to slowly dribble out information for five months, then have an exposition bomb at the end of the 20th episode that answers so many questions. But I'll say this much, it does do a heck of a job setting up the conflict that will define the final episodes.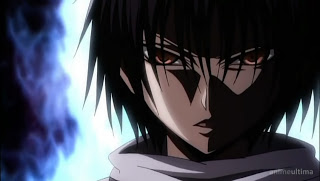 Interesting to see Kurotabo, who's been relatively quiet for most of the Kyoto Arc, step up and provide Rikuo the tutoring he needs during the battle with Kidomaru. There's a definite sense that we've seen .001% of the massive power that Equip is packing, and even with Kuro's relatively straightforward powerup it was enough to turn the tables in the fight against Kidomaru. But Kidomaru isn't dead yet, and he has a few trump cards to play that will apparently put his Oblivion to shame. He's another one who's been quiet for most of the arc, but clearly makes up in power what he lacks in ostentatiousness. And from the looks of things, he appears to be in league with Minagoroshi-jizo (though I'm not ready to write that in ink just yet).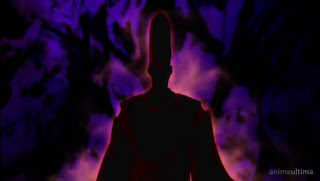 At the mention of an onmyouji from a thousand years ago in episode 19, there was always a strong possibility that Nue's true identity would be a familiar one. And indeed it's none other than Abeno Seimei himself, one of the most legendary figures in Japanese history and a common subject for pop culture portrayals. Sometimes (usually) he's good and sometimes evil, and here he appears to be something of both. His origin story explains almost everything, even his motivation. So Hagoromo-Gitsune is his mother – do I take that to mean that this Abeno Seimei is half-youkai? Interesting take, as is the notion that he yearns to live forever to oversee the beautiful world he feels he created. How this jutsu he's created for rebirth works is one of the remaining mysteries, as is the impact Nine-tails' untimely death had on it, but it's clear Seimei has a worldview which holds no place in it for messy humans.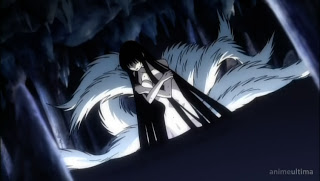 A highlight of the ep for me was Kidomaru's comment about Edo youkai being like fireworks, and Kyoto like hellfire – it's pretty informative about the premise of this entire series, really. If it took both Hidemoto and the entire Nura hierarchy to take down just Nine-tails last time, one can only assume it'll be even harder to take down Seimei himself – who appears to have successfully engineered his rebirth. And the more I think about it, the more I suspect Minagoroshi-jizo still might be operating as a free agent, as the others in Nine-tails inner circle surely knew that the ultimate outcome was to be Nue's rebirth – and Kidomaru never seemed to quite trust him. Something's still not quite right there…