Before it got all serious in the second half (sort of) this episode of Majikoi was a phallus-shaped arrow fired directly at the heart of Ishihara Shintaro.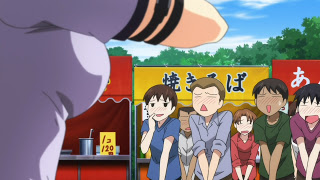 I haven't blogged this show in a stand-alone post for a while, but as this episode was noteworthy for a few reasons, most especially that it was damn funny, I thought it was a good choice. I'd been wondering if Bill 156 was going to be attacked directly in anime and manga the way it almost immediately was in doujinshi, and it seems we're really starting to see the answer in the affirmative. It was certainly prominent in this arc of UN-GO, and it was equally obvious in this episode of Majikoi. The subject matter was blatant enough, but it was when Wakamoto-sama made his comment about Japan having lost the war that all doubt could safely be erased.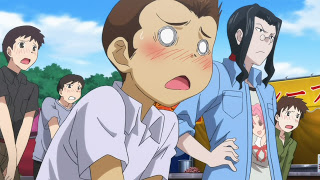 Of course the events portrayed here are based on a very real festival in Japan, and it is indeed world famous – the Kanamara Matsuri in Kawasaki City. It's humorous enough that such a festival exists in the first place, but to see it so gleefully exploited for salacious laughs here was a delight indeed. Every time I thought things had gone as far as they could possibly go, they went one step beyond. Momoyo's lesson on eating the phallus-shaped candy was provocative indeed, and then there was the comments about foreskins and "elementary school versions", the competing floats, and then finally we had Kokoro's candy with the "early morning milk" topping – oh, my. Subtle it wasn't, but the whole sequence had me laughing pretty hard.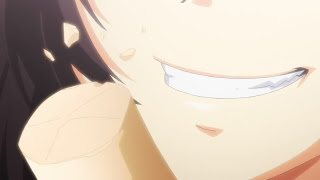 And then we had a sudden and rather sharp turn in the second half, as Yamato literally bumped into the yakuza-looking guy with the bandaged face (Wakomoto Norio) from a couple of eps back. Turns out this fellow knows Yamato's Dad – the Dad who abandoned Japan because it was corrupt and rotten. The two of them have a pretty hard-core conversation about the state of affairs in today's Japan, all the more interesting because it doesn't pull any punches (and neither does Wakamoto) and because it's so totally out of character with the rest of the series. I don't know exactly who Wakamoto's character is, but he finishes the ep reporting to the elder "I've sent out a search party. I will track them down." That's the closest thing to an actual recurring plot (or any plot, really) so far.
This is definitely the weirdest show of the season for me. I never dislike it, and I do admire its unflagging determination not to do anything normally. That gruel is a bit thin to sustain me week after week, but the show does occasionally score up something truly hilarious and the possibility of that keeps me watching. And I must confess, I'm sort of curious to see where this Wakamoto business is going.