Guilty Crown still inhabits that vast middle ground between mediocrity and genuine quality, with only its sublime visuals to set it apart from the crowd.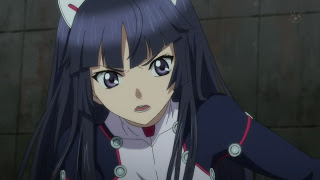 The best thing about the sixth episode was probably that Gai's "death" wasn't milked for false drama – it was literally revealed in the first minute of the episode that he was still alive. Of course everyone that was with him was killed, including Kyo (she was dead as soon as she flashed the "live long and prosper" sign last week) but that hardly matters, since even the main characters in GC are basically ciphers. Everyone else is pretty much that guy in the away team you've never seen before so you know he's going to be the first to die.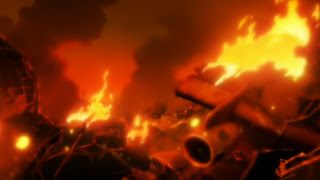 As much as I try and muster some genuine enthusiasm for this series, it's just not coming. I don't dislike it and I still find it somewhat entertaining, but I'm surprised that a respectably talented creative team like this one hasn't been able to move past the purely derivative. Director Araki and writer Hiroyuki have a good but not great track record, though, and the difference between their storytelling skills and that of the creative guys behind UN-GO is becoming more stark every week. Every episode of GC feels like a rerun to me, at least so far, because I've seen all these characters before and I can't think of a single instance in which the series has surprised me in any meaningful way.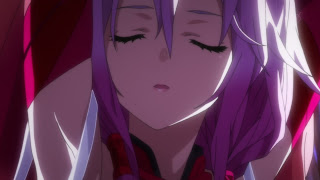 In reality, probably the most potentially interesting element of the series is the xenophobic political drama it seems to want to tell, though it never quite gets around to it. I'm not too concerned with Shu, Inori or Gai at this point because none of them feels like a real person. Shu turning tail and running from the strategy session made me wince, although I never doubted for a minute that he'd agree to Gai's plan. Gai himself is taking on the tortured hero role, crushed under the weight of the expectations of the kids in Undertaker despite feeling he doesn't deserve their adoration. Whatever his physical problem is we don't know yet, but in his own way Gai's self-pity is almost more extreme than Shu's. His speeches are certainly more overwrought. Gai's Christianity was certainly highlighted strongly this week, laying on the martyr vibes even thicker.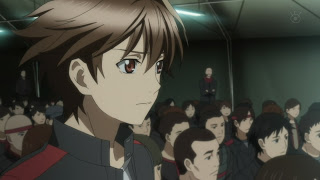 I'd like to say that Sakai injects some life into the show, and his scenes do tend to pop at least a little. But he's himself a pretty played out character, lacking only a mustache to twirl while he laughs maniacally. It can't have been a shock to discover that the pen he gave Shu was a fully functioning listening device, and that by pressing it Shu would have succeeded only in calling down the Leukocyte unto the heads of Undertaker. But Sakai was realistic enough to at least cut a deal with Gai rather than see Tokyo destroyed by the falling Leukocyte. As for Inori, she's as gorgeous a character as I've seen in anime in many a year, but somehow even she starts to lose me when she starts talking. There's just no context to anything she says or does – even with an enigma like Ayanmi Rei, we were given glimpses inside her psyche almost from the beginning that prevented her from being a total blank. Not so with Inori, who's just a beautiful character design reading a script. Though we saw no signs this week, I'm hopeful that Kenji might at last provide some spark. Okamoto Nobuhiko, a nation turns its lonely eyes to you…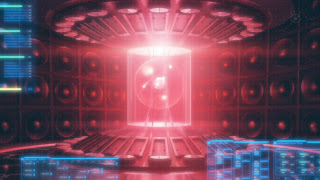 I take consolation in the fact that Guilty Crown has at least been fairly consistent, and consistently watchable at that. As well, that there are still quite a few cards left to be played. There's the full nature of the plot GHQ is hatching with the Leukocytes, still unknown, and we haven't even scratched the surface of the potential drama involving Shu's mother and how she relates to his new situation. Indeed, there's been shockingly little heard from Shu on the subject of his family, leading one to assume they mean very little to him. Basically, I'm going to need some of these seedlings to start bearing fruit if I'm going to last for 22 episodes with this one because what we've seen so far isn't enough to keep me hooked for that long.