Yawn, another superb episode of Fate/Zero. It's getting boring, I know, but what do you want me to do?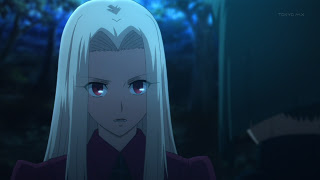 In some ways F/Z is like this season's Steins;Gate – a series that does pretty much everything well. Each has a big and ambitious story, great production values and does a fine job blending exposition and dialogue-heavy episodes with breathless action and suspense. There really is no substitute for a great writer like Urobuchi Gen and a top-notch director like Aoki Ei, who's impressed the hell out of me by doing two dramatically different but great series like this one and Hourou Musuko in the same year. With it's patient storytelling style, rich characters and scope this show reminds of an en epic fantasy much more than a traditional anime, but then most of Gen's work is far outside the realms of anime stock and trade.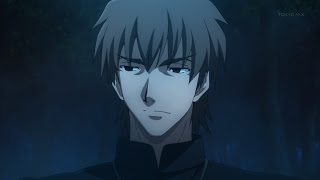 The action this week was split among three divergent but fascinating tracks, all of which would converge elegantly by the end of the episode. Perhaps the best was the battle between Kiritsugu and Kayneth, who in many ways represent the polar opposites of the Grail War combatants. Kayneth is an arrogant aristocrat of the world of mages, brilliantly trained in the classical arts and as concerned with style as substance. Kiritsugu is a total pragmatist, always weighing the reasonable sacrifice to achieve the needed end, and completely unconcerned with ethics or honor as long as his ultimate end is achieved. It's absolutism vs. relativism at its best, a contrast of superficial style as well as philosophy, and it's no wonder Kayneth would have died had Lancer not stepped in and saved him when he did. Merely by offering something outside the realms of traditional magus weaponry Kiritsugu confounded Kayneth. Now we know, at least, why he looked so confident holding his Thompson Contender in the closing shot last week – though it appears as if he paid a terrible price for the bullets that would have killed Kayneth. A sacrifice that was justified in his mind, to achieve his ends.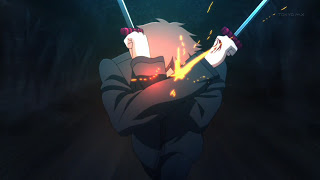 I asked last week why Kiritsugu was so terrified of Kirei, and I think we got out answer this week. Kirei is far too much like Kiritsugu for the latter's comfort. He's cold, directionless, and not bound by the conventions of the magical elite. A trick like the magic bullets would never have worked on Kirei – indeed I think Kirei would see through most of Kiritsugu's stratagems, and he lacks even the anchor of someone like Irisviel and Illyasviel to ground him. The Executor is a desperately dangerous free agent, and thus the most dangerous opponent for the Magus Killer. I still think Nakata Jouji was a bad casting choice, and not just because of his vocal similarity to Hayami Sho. He sounds too old and too self-assured – I think Kirei would have been better served by a younger actor who could express just a bit of inner pain and vulnerability.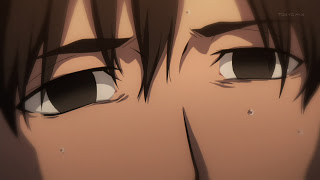 But that's a small complaint really, in the larger scheme of things, and Kirei was a huge and commanding presence here. He's been something of a cipher thus far, but his conversation with Gilgamesh seems to have set his mind off on a track of self-reflection. He was a chilling foe this week as he battled Iris and Maiya, not least because of his fearsome offensive capability but also his cold and relentless cruelty. Caster's cruelty is boundless, but makes him somewhat predictable – Kirei is impossible to read, for he neither inflicts pain for pleasure nor hesitates to do so out of sentiment. He would certainly have killed Iris and perhaps Maiya had the Avalon magic not been present to heal them when Saber reappeared.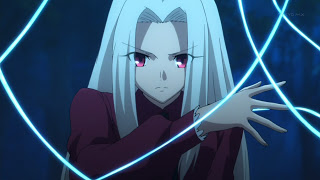 The last thread this week has Lancer and Saber joining their forces to finish the fight with Caster. Saber has the superior analytical skills, but to be honest it seems to be that Lancer is the stronger servant in battle – perhaps that's due to Saber's injury but then, it was Lancer that inflicted it. Their teamwork to mount an attack against Caster's noble phantasm was fairly straightforward, and it seems likely to me that Caster's inherent weaknesses will eventually lead to his downfall. No, the interesting thing for me is watching the two spirits form such a close bond, despite the fact that one will eventually kill the other (I'm assuming she will kill him – Gen has surprised me before, but not that much). Their chivalry is strong indeed, and it's fascinating to watch as Saber becomes increasingly aware of just how little chivalry her master has. In allowing Lancer to go rescue Kayneth unimpeded Saber acted directly against the implicit wishes of her master, who had planned the whole exercise specifically as an opportunity to kill Kayneth. But – and I'm guessing it was because Kiritsugu never expressly forbade her or stated his intentions – Saber allowed Lancer to go anyway, and it was plain to see she was repulsed by Kiritsugu's strategy.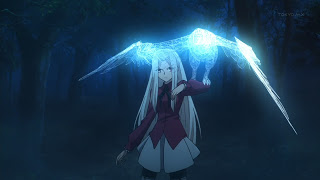 I'm not at all surprised Kayneth didn't die, as it still seems too early for any of the major characters to be written out. But that armor won't last forever and it's obvious that the series is structured with Kiritsugu and Saber as the main characters and likely winners. That in itself is boring and predictable, but the fact that Saber is so intrinsically opposed to her master's methods does make it more interesting to watch. And of course, I'm sure Gen will find a way to make the inevitable ending at least original in the way it's executed. In the meantime Fate/Zero remains a pleasure to watch every week, straightforward yet subtle and filled with interesting characters. I'm very curious to see more of Kariya, who remains almost totally non-existent in the story, and more of my favored pair of Waver and Rider. And it's going to be lots of fun to see Kirei turn against Tohsaka, which I figure is going to happen sooner or later.