My favorite moment of this generally unspectacular episode of Haganai was the last one, by far. But I know this much – if there's a shipping end to this series, I'm pretty sure it's going to leave me pretty pissed off.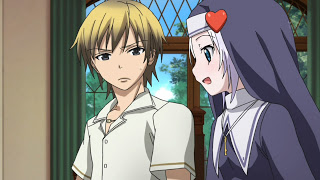 OK, first of all – I almost feel as if there were some massive inside joke that I'm missing here. Is it really that common for teenagers in Japan to be woefully ignorant about cell phones? I know it was supposed to be funny and all (and it was, sort of) but it hardly seems realistic unless there's something from the novels I don't know. Not knowing how to use infrared, I could see that I guess. But Yozora had never sent a mail, Kodaka didn't know he could use it except to call home, and Sena – a rich ojou-sama – didn't have one at all? Very, very odd, even for a bunch of social outcasts. But it did play up the degree to which those three really are outcasts, that's for sure. Kodaka was so excited at doubling his contact list that he even slept with his phone.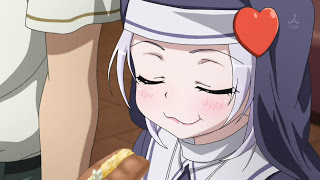 To be honest, I really didn't laugh much for the first two-thirds or so of the episode. Interaction between Kodaka and Kobato was pretty minimal, and most of the screen time was given over to the double-reverse trap, Yukimura. Those conversations were certainly odd, I'll grant you, though I'm not sure I'd say there were funny in a good sense. What an odd creature Yukimura is, and sooner or later Kodaka is going to have to put a stop to the charade that Yozora started. We did get a pretty funny bit where Rika went all yuri on Yozora, sending Kodaka a bunch of dubious emails (including one of her elbow masquerading as Yozora's butt) but that fell in the final part of the episode, which was where most of the action happened. I'd really love to see more of Rika – she's a character who consistently makes me laugh.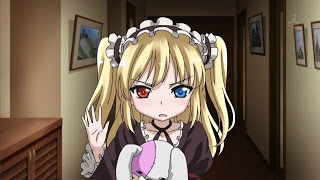 But as it always seems to, Haganai this week boiled down to the war between Yozora and Sena. Except I can't really call it a war, because it's mostly just Yozora being a sadistic bitch to Sena simply because she can. Sure, Sena acts like a snob in a transparently harmless way, and it would be nice if she didn't let Yozora's cruelty bother her. But just because you can kick a dog doesn't mean you should, if you're a decent human being. When Sena burst into the clubroom overflowing with excitement at having gotten a cell phone at last (Kodaka's exact model, naturally) and wanted to exchange addresses with Yozora, I thought Yozora's reaction was especially petty and vile, even for her. Not just to turn the request into a torture session, but then to deliberately try and sabotage Sena's phone? Sure, it was technically harmless – but what if Kodaka hadn't been around to fix it? Sena might not be the most savvy soul in the room, but she didn't deserve to have her exhilaration pissed on that way.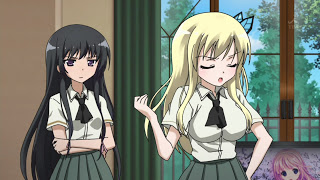 What gives me hope is that Yozora got exactly what she deserved – her plan backfired. And it was pure pleasure to see her dismay when it ended up making Sena a sympathetic figure to Kodaka, who fixed her phone. Maybe there's a glimmer of hope that Yozora could see that her bullying and pettiness is the very thing that's driving everyone away from her, including Kodaka – but alas, more likely she's simply going to stew about what happened, feel sorry for herself and plot revenge. That's why I'm hoping for a "forever alone" end, because if there is a shipping conclusion it's a lock that Kodaka ends up with Yozora, not Sena. I'm not married to the notion that Kodaka ends up with Sena, but it will seriously burn my bacon if he ends up with Yozora after the way she's behaved.
One more thought – what happened to the Kodaka visit to Sena's father? Wasn't that supposed to happen this week? It seems to have been totally forgotten about.