If I'd made the claim midway through the first season that an episode of Bakuman would be arguably one of the most intense anime episodes for months, I'm pretty sure just about everyone would have said I was crazy – and the line would have formed behind me. Well, guess what…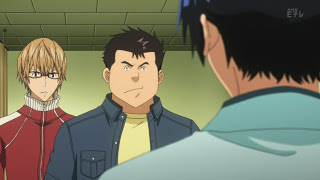 I'm pretty charged up with righteous indignation after watching all that unfold. Fukuda isn't one of my favorite characters on this show, but he certainly does come in handy at times when you need the rabble roused. I smell trouble ahead, but I heartily support his decision on principle. The man who really disappointed me this week was Sasaki. I said that he was the only one with enough emotional distance and experience to cut through all the powerful feelings and make the right decision. Well, I was wrong about the emotional distance part, because he just made a very poor decision based on emotion.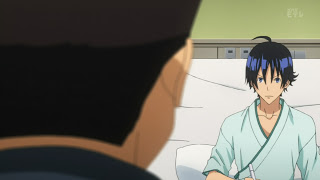 Any way you slice it, the question of whether Masahiro should continue drawing in the hospital was a difficult one and hardly clear-cut. Masahiro made the same argument to his doctor that I made in this blog last week – that it would put him under so much stress not to draw that it would actually be worse for his health than drawing under supervision. That may or may not be true, and I'll admit it makes a handy device to rationalize why he should continue writing. But to not only put the series on hiatus during his hospitalization, but to extend it until Ashirogi Muto graduates high school? Sorry, but that's just stupid as far as I'm concerned.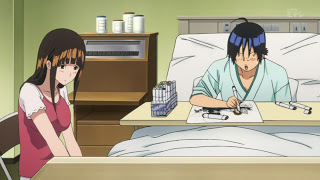 The really galling part about it is that Sasaki freely admits that he's only extending the hiatus because Masahiro is Nobuhiro's nephew. Guilt is rarely a healthy basis on which to base important decisions, but it's clearly the major factor here – that and the pressure from Masahiro's mother. Her role in this can't be faulted, because she's only doing what she sees as best for her son – but she's doing the wrong thing for the right reasons. Once she admitted that she wanted Masahiro to quite drawing manga altogether, she disqualified herself from being a rational judge on the matter of how Masahiro's illness and the hiatus should be handled. By her own admission, she's trying to destroy his career – and because of his guilt about what happened to her brother-in-law, Sasaki didn't have the balls to stand up to her.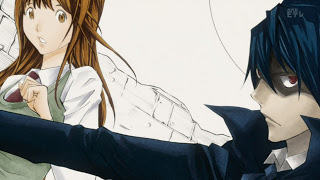 So indeed, things have gotten pretty ugly now. Fukuda (as I immediately suspected he would) decided to boycott "Jack" until the decision is reversed. Hiramaru, wanting nothing more than a break, is only too eager to come along, and Fukuda shrewdly realizes Aoki will be a much more receptive ear than Nakai – and no one would be more likely to persuade him. But it's Niizuma that's the big dog here, the powerhouse, and with his involvement the notion of a boycott carries some real weight. The showdown with the editors is ironic, because they're seemingly just as upset about Sasaki's decision as the writers are. But Sasaki strikes me as a man who won't respond kindly to threats, and the potential for disaster is rife here even with Niizuma on-board. One thing we can be pretty sure of is that Miura will be utterly useless as usual, but it was interesting to see Hattori #2 be the editor most angry about the situation. How he and his colleagues handle this is going to be interesting to see.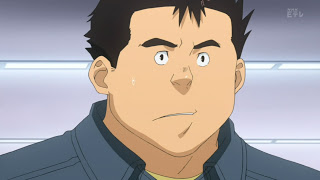 Indeed, I'm not sure I can see what the way out is. The obvious answer is to compromise, putting Trap on hiatus but ending it as soon as Masahiro is released from the hospital. But Sasaki would have to both back down and go against Masahiro's mother, and I'm not sure I can see him doing that. I really wonder if Masahiro's Dad might not get involved here, as he's been conspicuously absent for a very long time. Nobuhiko was his brother after all, and he seems to understand the important this dream holds for his son. A word from him could go a long way towards persuading both his wife and Sasaki.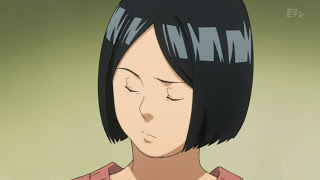 If there's any good news in all this, it's that Masahiro's relationship with Azuki has come a long way in a short time. I'm pleasantly surprised the series hasn't grabbed on to their pact like a dog with a bone, but let it go when it made sense for the story. Pretty much all their secrets are out now, even Azuki's promise to wait for Masahiro until graduation, and with her planning to visit him in the hospital every day I have a hard time believing they'll be able to go back to 100% e-mails and texts after he's released from the hospital.