What the F*** was that??

I hope you've seen the premiere of this series, because if you're expecting a recap of who everyone was and what the hell happened, you're out of luck. This has been the craziest blogging day ever, premières everywhere and a finale to boot, and this might just have been the most batshit crazy first episode of any series this year.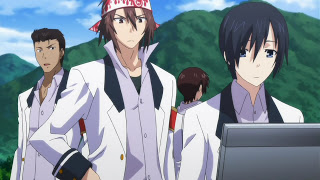 I know this is based on an adult VN, but that's the extent to which I know anything much about the premise. It plays as if the production committee – little known studio Lerche and director Motonaga Keitaro – expected their audience to know the material, because they sure didn't go out of their way to explain anything. I was certainly confused, but I have to confess that probably was one of the reasons I enjoyed the episode so much. It was a non-stop avalanche of combat, panty shots, siscon (except, not really), robots, spanking, killer maids, fundoshi and hammy dialogue. Given that I was somewhat expecting a romance sim, to say this took me by surprise would be an understatement.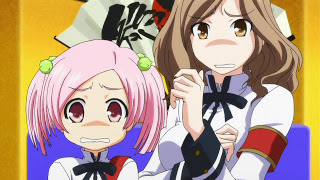 The fact that Motonaga directed the vile School Days certainly poisons the well for me, but I confess the first episode was genius from a directorial standpoint. Series writer Takayama Katsuhiko gives me much more hope, as he's worked on several excellent series like Ef, Natsu no Arashi and FMA (he's also series composition for this season's Mirai Nikki). From what I can make out, Naoe Yamato (Kamiya Hiroshi) is the male lead, and I thought he had an incestuous crush on his big sister Momoyo (Asakawa Yuu) until I found out they're not actually related by blood. There's a whole lot of other characters, mostly females adept at Sengoku Era combat, and they're all involved in some kind of a bizarre high school war game with Yamato's low-ranked (Class F, even) fighting Momoyo's high-ranked Class S.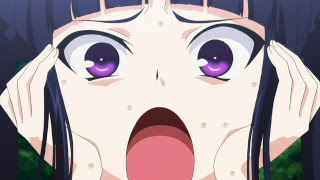 I don't know if the rest of the series is like this, but I think you could call this a cross between S1 of Baka Test and Sengoku Basara. Not much of it really made any sense, but I can't say I didn't enjoy it. It was very funny and the action sequences were quite well done. The fact that the production totally went all-in on the insanity is what really made it work for me – it was as if they spent 22 minutes trying to top themselves, and usually succeeded. I don't know if I could take 12 more episodes like this, but for one week it was a blast. This one will rank much higher on my premiere list than I ever would have guessed going into the season.