C3 continues to be one of the best looking series of the fall season. Underneath that layer, it hasn't really resonated with me just yet.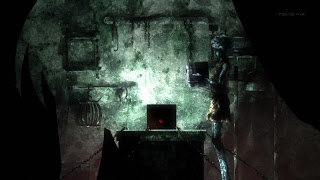 There was certainly plenty to like in this week's episode. This is still one of the best looking series of the season, crisply and beautifully animated with Shin's usual flair. The battle between Fear and Barowei was especially well-done. This was the best scene of the episode, and not just visually – setting up Fear as an object of both sympathy and terror. It was pretty graphic and gory, but I expected that given the series' reputation. After having her arm taken off at the shoulder by Fear's guillotine, Barowei was rescued by her "auxiliary" from the Knights of Gathering, who treats her with cursed bandages over her protests.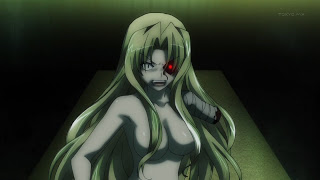 It's not as if I dislike any of the characters or this scenario, but there's something in the total package that just isn't working for me so far. If I could put a finger on it, it's a kind of stiffness – a lack of flow to the episodes that leaves the impression of a bunch of scenes strung together without truly being connected. In other words, the total is less than the sum of the parts – at least for me – and that makes it curiously the opposite of Mashiroiro Symphony, a seemingly trivial presentation that makes more of an impact that the components say it should. Things just feel very familiar here, and I can't get inside any of the characters. They're performing the motions quite admirably, but I'm not getting the motivation behind them.
Three eps is normally my trial run for a series I'm genuinely interested in blogging, but I want to give this one a little more time to capture me. There's some talent involved, and some genuinely interesting things happening on screen – it's just not coming together.