I can certainly say that I enjoyed the second episode of Haganai much more than the first. This was more in line with what I was expecting – a lot of sass, a little sex, and some very funny dialogue.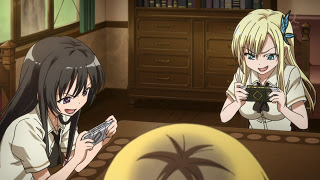 I actually don't have much to say about this one, because while it was at times wildly entertaining there's not a lot of specific moments I can pick out as genius. Rather, the overall experience of watching the episode worked because the dialogue was really sharp. When dialogue is good it develops a rhythm that almost seems to be self-propelling – rather than individual lines you remember it as one long stream of consciousness that speaks of a certain mood and attitude. Steins;Gate is a great recent example, of course, and another one is a series that seems much closer to this one at heart – Oreimo. I would have been happy listening to Sena and Yozora sniping at each other all day long.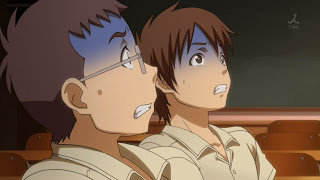 I don't know if this is one of those shows where you simply have to pick one girl or the other, but if it's either/or for me, I'm definitely in Sena's camp. I love her combination of denseness and cleverness, how cocky she acts to hide her insecurity. It makes perfect sense to me that this girl would totally become an RPG addict – you was factory-built for it. As for Yozora, Inoue Marina is doing her usual fantastic job with the character, but I'm not as much a fan of her passive-aggressive posing as I am of Sena's earnest cluelessness. Of course we still have many more cast members to meet – the OP and ED would have told me that even if I didn't know it already – but apart from the stalker hiding behind the pillar, we were totally focused on the big three again this week.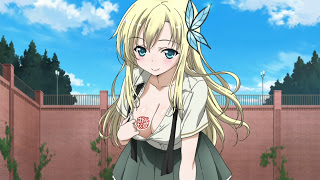 Speaking of the big three, one thing that would make the series better for me is if Kodaka starts to dish out a little abuse in addition to receiving it. He's a hit of a sad sack at the moment (ironic given his reputation) and especially with two very strong girls as co-leads, he needs to start being more of an equal player. That aside, the only other nit I'd pick with the ep was that the "Monster Hunter" gag went on a bit too long – it was hilarious for a couple of minutes, but the joke ended up repeating itself a couple times too many. But I was intrigued with the notion of seeing the PSP and RPG scenarios play out – the latter was especially funny – and the reactions of the two girls.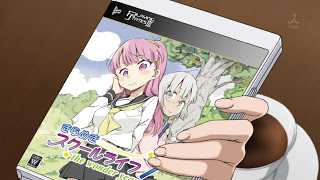 If Chihayafuru showed us the way schoolboys can be cruel to each other this week, watching these two play "Kirameki School Life 7". I especially enjoyed Yozora's comment that "They're saying on the internet that high school girls these days are slutty bitches". It's hard to see how this kind of activity is bringing anyone in the Make Friends Club any closer to making actual friends – unless calling each other "Meat" and "Witch" counts as making friends – but it was fun to watch from a slightly voyeuristic perspective, and the subtly yet most erotically executed fanservice adds to that impression. If theirs a series this year that's better at zettai ryouiki, I haven't seen it.
One final note – is Yozora wearing panties at 13:22? Sure doesn't look like it…