As I look back on this series, it strikes me that it managed to be very faithful to the manga, yet separate itself from it in some crucial and fundamental ways. That it managed to do so without turning off most of the manga readers is a pretty remarkable achievement.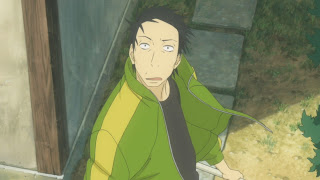 Usagi Drop was many things, but one of the most important was "restrained". This is a powerhouse of a premise, and I felt from the beginning that a low-key approach would serve it best. My thanks to Kamei Kanta and Production I.G. for realizing this and treating the material with a light, deft touch that only very rarely pandered directly to the tear ducts. I suspect that many of them got a severe workout without the show having to go to any special pains.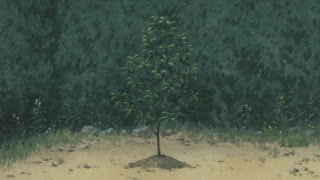 I think this may very well be the best anime about parenting I've seen. It's a rarity, certainly, in that there wasn't a teenager to be found anywhere in the cast – I can't even remember a guest appearance. So maybe there isn't a huge amount of competition when it comes to parenting series, but there are quite a few that touch on it, and most either err on the side of too much frivolousness or too much drama. Usagi Drop got it just right, focusing on the small moments of daily life that ultimately stay in our memories and prove the most important. That it was done through the eyes of a 30 year-old bachelor learning about being a parent through the course of the series was a brilliant conceit, and the credit there goes to mangaka Unita Yumi.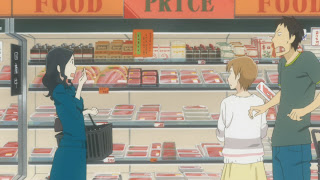 While the character who most obviously grows during this series is the adorable and precocious Rin, make no mistake – more than anything this show is about Daikichi's growth. He starts the series with a total absence of experience as a parent but an embarrassment of riches when it comes to empathy and good instincts. Daikichi is the signature character here, the one who stands in the pantheon of rare and indispensable anime characters. There are plenty of cute little girls in anime, but 30 year-old single Dads are a rare sight. Daikichi is a simple and humble guy in many ways – he works hard and responsibly, cares about his career and advancing – though it's important to point out that he's trying to do so the right way – but doesn't have a whole lot going on in his personal life. It's his instincts that draw his attention to Rin after the death of his Grandfather, and I think she sees a soul-mate in Daikichi as well. Daikichi has little patience for injustice, and correctly sees Rin as the victim in his family's petty squabbling. If his decision to take her home was impulsive, it could hardly have been otherwise – he has no context to make decisions like that – but as always his instincts carry him through where his experience fails him.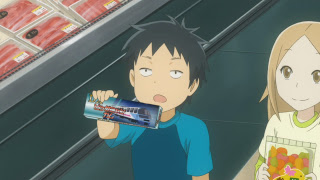 For me the best parts of the series came in watching Daikichi and Rin learn how to live together and grow to become a real family. Simple things like clothes shopping and choosing cereal became milestone events, and were played both for affectionate humor and subtle emotional tug. But things really took a quantum leap forward with the introduction of Kouki and his mother, Yukari. Not only did I enjoy both characters in their own right (especially Kouki) but I loved the way they changed the dynamics of the series. There was the obvious romantic interest from Daikichi towards Yukari, teased in the anime but not explored fully. But there was also the growing bond between he and Kouki, one of the best elements of the series. The two could understand each other in ways their housemates couldn't, and that gave them a special connection. They were great together, and the four of them were a fantastic unit. The romantic in me hopes that they might someday become a proper family, though there's no real indication Yukari sees Daikichi that way. In the meantime, it's enough that he provided support for Yukari (and she for him) and a father figure to Kouki, who desperately needs one.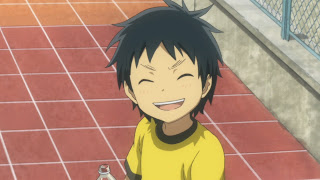 There are some nice surprises to be had in Usagi Drop, such as the heartbreaking episode involving Daikichi's cousin Haruko and her unhappy marriage. There are lovely moments with Daikichi's parents, and a surprisingly balanced and nuanced portrayal of RIn's damaged biological mother Masako. There's the question of whether Grandpa is really Rin's father, which I consider to be very much in doubt, which is left open-ended. And there's some fantastic humor, a good chunk of which involved the irrepressible and incorrigible Kouki. Mostly, though, the best moments are simple observations of Daikichi and Rin in their daily lives. It's hard to remember a more low-key series that packed such an emotional punch. Like a fine chef working with extremely rich raw ingredients, Kamei realized that a light touch was needed here, and he used it.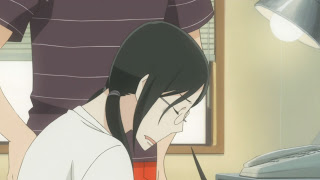 Production-wise, while this is not a flashy series it has a lot of nice little touches. OP and ED are superb and appropriate, and I love the small changes to the ED animation every week. The animation, a sort of soft water-color look, is understated and suits the material perfectly. I.G. has used this sort of style before (Kimi ni Todoke, etc.) but it's never looked this good to me. And a special commendation for using real kids in the child roles large and small. Matsuura Ayu and Sakai Noa are spot-on as RIn and Kouki, and the series definitely would have lost some authenticity with adults playing those roles. The irony is that Matsuura and Sakai play these roles in a much more understated fashion than the typical adult seiyuu, who typically overact terribly when playing children of this age.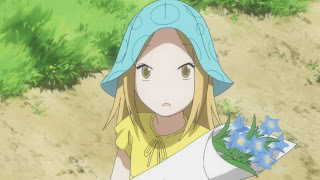 This series was a genuine pleasure, and a real triumph for I.G. and NoitaminA. Unless the Fall Season is a very strong one I think it has an excellent chance of landing in my Top 10 list for 2011. My question now is really whether to read the rest of the manga, knowing its controversial nature with the fans, or to happily leave things as the anime left them – which is to say, facing a world of possibilities and full of hope.