As seemed likely after the cliffhanger last week, MPD takes a radical detour from the narrative and leaves us no closer to the truth of what, if anything, is at the heart of this strange and maddening series.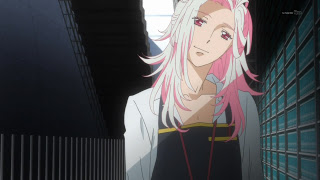 There's good news here. We had an episode that featured absolutely no Ringo, which was certainly a breather this series desperately needed. We also got an episode focused on Himari, who was certainly the most underdeveloped of the central cast. Those are formidable pluses, though in the end I'm not sure how much we really learned about Himari here.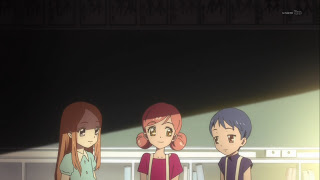 One thing about Ikuhara is that he really, really likes to keep you guessing. Getting a straight answer on any topic from an Ikuhara anime is like getting the proverbial blood from a stone, and that can be exhausting. Watching any of his shows is hard work, and this one is no exception. We got an awful lot of random elements that won't turn out to be random, but unless you have hours to study and analyze them they won't make much sense now. We know Himari had some sort of dream or fantasy sequence that took her to the "annex" of the Tokyo Central Library in search of the book "Super Frog Saves Tokyo". There she meets Sanetoshi (Koizumi Yutaka), who takes her on a trip down memory lane. There are flashbacks to her mother and an incident in which she was badly injured which was Himari's fault. There were the two girls in elementary school Hikari and Hibari, with whom Himari was going to form the "Triple-H" idol group before the accident foiled that, who went on to make as idols (Double-H) without Himari. And there's mention of Himari's "fated one" who might be a young boy who also wears a penguin hat, this one with a crown on top.
What does all that boil down to? Who the hell knows, and Ikuhara is going to take his damn sweet time clarifying any of it. My money is on the whole thing being a dream, especially with Penguin #3 being with Himari in scenes where she shouldn't have existed. There are strong implications that the "Survival Strategy" penguin queen and Himari may in fact not be two separate entities, but two facets of Himari herself. I have no idea who the fated one is, though by the silhouette at the end it appears to be a boy. Blue-eyed boy might mean some connection to blue-eyed Masako, who knows. In the end, it's just a bunch of sound and fury signifying nothing – except it's not signifying nothing, it's serving a larger mystery that Ikuhara isn't interested in having anyone solve for a long time.
I guess it's going to fall to everyone's own preference to decide whether or not Ikuhara is playing fair here, and whether all this is worth the effort. The episode itself dragged for me, though there were a few interesting moments when the same animations weren't looping endlessly. As always the eye candy was delicious, especially the "Alice in Wonderland" feel of the unearthly library. 22 minutes of this series is never less than fascinating to look at, and thank goodness this show at least has that to fall back on.