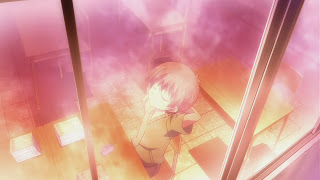 I surrender, seriously. I can't figure out what the hell happened to this series, and what the hell Silver Link is trying to do with it. A commenter (Myssa Rei) mentioned last week that they've shuffled the chapters around a lot this season, and maybe that explains some of the weirdness. But it can't be just that. What is the point of all this joyless, somber backstory that's totally undercut by the preposterously sadistic behavior of the rest of this season?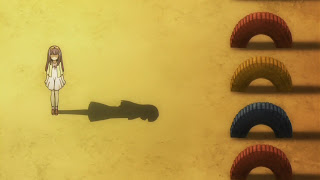 You can pretty much cut and paste my review of episode 8 here, and it will all apply. That one was marginally better as an entertainment but they're equally puzzling and illogical. Why did you spend 7 episodes making me hate these girls and then expect me to suddenly love them because you showed me a sob story about their childhood? And why are so many reviewers on places like MAL and Animeplanet apparently eating it up like candy? To repeat what I said about 08, just with the names changed – doesn't the fact that Yuuji was the only one who was nice to Shouko when they were kids make her despicable behavior towards him now that much more despicable?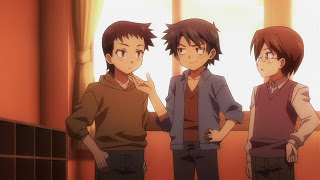 So the chapters being moved around, OK… But is the source material just not as good this year? I can't honestly recall an instance where a show I liked as much as I liked the first season of Baka Test has totally baffled me and left me cold. It's not anger or disgust anymore – it's just confusion. Maybe this show just wasn't written for me – I'd be fine with that, it happens often enough in a medium as diverse as anime. But has it changed that much in a year, really? Is that possible? because I'll be honest – I know I haven't. And I didn't laugh once this week, not one damn time. That's a poor choice for a comedy to begin with if you ask me (especially as they've done two dead-serious eps in three weeks) but it makes even less sense in the context of how these characters are portrayed the rest of the time.
At least we got a special ED by Milktub (dropping them was another huge downgrade from S1) but all that really did was make me wistful about how much I miss my old Baka-Test. Pretty thin gruel, but that's really the only positive thing I can think of to write. I'm just totally bewildered by the rest of it. Sorry to all you fans of the season – glad you're enjoying it. I just can't for the life of me understand why. if anyone can help me understand, I'd be truly grateful because the mystery is annoying me almost as much as the show itself.