The general reaction to episode 22 off Tiger & Bunny seems somewhat muted, but I liked it a lot. It may not have been a "wow!" compared to the great run of eps we've had lately, but that's as much a statement about how consistent T & B is as it is about the episode itself.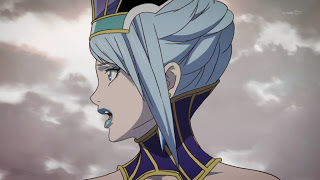 For sure, Kotetsu's "plan" was pretty unimpressive. Gather everyone on the roof and win them over with his charm? Oy – but then, he is a loveable dork and that's a lovably dorky plan to say it kindly. As expected, it was only Blue Rosé who responded meaningfully to all of his shared memories – proving once again the power of young love (and that her crush is stronger than Fire Emblem's). She seemed to be losing the battle of persuasion, though, and Bison and Sky High had just made the arrest when a "Deux ex Kaede" happened.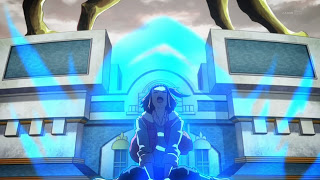 Was it convenient and a little too easy when Kaede zapped everyone's memories back to normal with her NEXT power? Yeah, it was, and admittedly not the best part of the episode. But it does answer a few questions about her powers. Not only does Kaede copy the powers of any NEXT that touches her – that was expected by this point – but hers is a kind of Zelig power – it morphs to whatever the power of the most recent NEXT to touch her is. That's interesting for a couple of reasons, not least of which is the fact that she must have touched a NEXT with magnetism after Kotetsu left, and Muramsa is the only candidate that fits. I'm sure we haven't seen the last of him, but the other interesting element here is that Kaede's power seemed quite different from Maverick's. Does Maverick have the power to emit a kind of thought cloud to impact a group, and to restore stolen memories as well as steal them? Or does Kaede's NEXT not copy the powers she touches, but tweak and/or enhance them?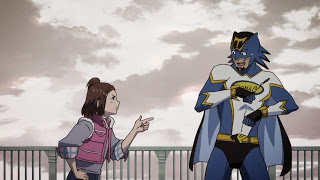 It was always going to come down to Tiger vs. Bunny – this is a superhero comic after all – so it was no surprise when things went down that route. Saito's reaction was puzzling – did he remember Kotetsu because of the broadcast, or was he simply upset because someone was wearing the antique version of his suit? In any case Barnaby didn't even have the broadcast, so his memories are still 100% altered – which leaves Kotetsu to draw him away from Kaede and the others to try and restore his memories, or to battle him one-on-one out of harm's way for the others if it comes to that. Maverick has already lost, whether he admits it to himself or not, but there's still the matter of the new fake (cyborg?) Tiger, who he sends after the other heroes. That Tiger's identity is revealed at the end, but not to us – stay tuned till next week for that, along with the climactic Tiger vs. Bunny battle. If it were a speaking Engrish contest, Bunny would win in a heartbeat.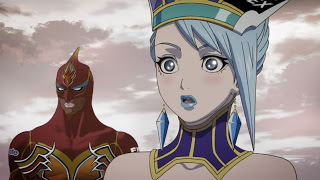 Again, I enjoyed this quite a bit for all the flaws – and it's worth pointing out that the animation rebounded nicely this week (though it was a bit heavy on the CGI). At this point my hope is that the actual combat is more or less settled quickly, because I'd like to see at least part of the last couple of eps deal with the character-driven conflicts that are still out there. But then, as predicted here a few weeks ago rumors are percolating strongly that there will be a second season of this series – and for once, I think that would be a perfectly good thing on principle and not a bastardized attempt to cash in on a hit. Also as predicted, it looks as if Kaede is going to come to Kotetsu rather than he go to her – which also supports the idea of a second season. There's the issue of Kotetsu losing his powers, but I expect they'd find some way to make that work – perhaps by his becoming a teacher at the NEXT Academy, or even taking over the disgraced AMverick's job. I don't see Kotetsu as much of an administrator, but he'd certainly be a popular choice among the heroes and the public – and making the issue of his fading powers just go away to support a second season feels like it would be a sellout.