Pound for pound, Tiger & Bunny may be the best show of the year in combining all the elements – character, plot, pathos, humor, action – into a wholly cohesive entertainment. There are shows that do any one of those elements better, but none that do all of them as well.

Before I continue, yes, I do notice that the animation quality has dipped quite a bit in the last two episodes. It's discouraging and a bit distracting, but the overall strength of the writing outstrips that flaw, and hopefully Sunrise is saving budget for the final run. In any case, episode 21 was a rock-solid continuation of the events of last week, mostly progressing in ways that were basically predictable but throwing in a few surprises and new mysteries to keep up guessing.
One of those predictable elements that was nevertheless satisfying in the execution was Lunatic coming to Kotetsu's rescue. With his Shinsengumi-like fixation on justice and his whip-smarts, it was easy to see that Yuri would take offense at what was happening to Tiger. As the other heroes took their shot at Kotetsu one by one, he managed to hold them off until the arrival of the "new" Wild Tiger – the hero who Maverick has set up to replace Kotetsu in the memories of his friends and colleagues. It seems very obvious that this Tiger – who supposedly has kept his true identity a secret from even the other heroes – is some sort of robot or cyborg. But it's "he" who finally seems to have Kotetsu under wraps when Lunatic shows up and sets him free, with a gentle nudge towards the truth. Only Blue Rose – perhaps with the power of true love or at least a powerful teenage crush – showed any signs that she might remember who Kotetsu was.
Speaking of secret identities, Kotetsu's Mom makes what seems like a wise decision in choosing this moment to reveal Kotetsu's true identity to Kaede. Kaede thankfully believed in her father's innocence anyway, but Kaede shows a lot of pluck (and considerable rashness) by breaking her piggy bank and heading off to Sternbild to enlist Bunny's help in saving her father. Though she walks right into the embrace of the devil, Kaede fortunately tells Maverick only that she's seeking Barnaby, and though he doesn't let Barnaby see her, she's at least safe for now. But not before Maverick touches her, which could be important if the nature of her NEXT is the power to absorb the powers of other NEXTs, as has been suggested. Meanwhile Barnaby has been under wraps (and under Maverick's thumb) though he appears ready to make his re-emergence next week.
Surely Maverick must have some plan in mind to ensure the silence of Kotetsu's family, though we've received no clues yet as to what it is. While Yuri is a wildcard who evaded Maverick's planning, he's not the only one – there's old pal Ben Jackson, too. He comes to Kotetsu's aid with a hot dog and his old Wild Tiger costume. Kotetsu has finally come to grasp at least some of the issue, realizing that only a NEXT could be responsible for everyone forgetting him and suspecting Maverick. He hatches some sort of plan that leads to him facing his old colleagues on the roof of the Appolon Media building in the old costume, promising to unleash a "wild roar". Fabulous max- fest it up, Tiger!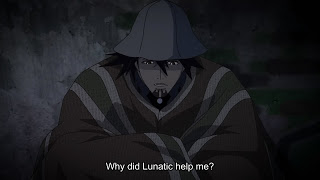 I for one am very glad the secret between Kotetsu and Kaede is out in the open. Though both of them are still in serious jeopardy, at least their relationship is no longer in a holding pattern. I suspect Kotetsu's brother Muramasa (Tanaka Masahiko) would have headed to Sternbild anyway but with Kaede missing, he'll almost surely turn up – and, I suspect, reveal that he's also a NEXT. Maverick is likely to take greater risks as his plan inevitably starts to unravel, which only adds to the sense of jeopardy for everyone in the Kaburagi clan. Right now it's Kotetsu, Ben and Kaede (I suspect Lunatic has given as much assistance as he plans to) against the world – but those odds will almost surely start to even out soon, one way or the other.