Tiger & Bunny has the occasional habit of starting off making you think an episode will be one thing, and ending up making it something different altogether.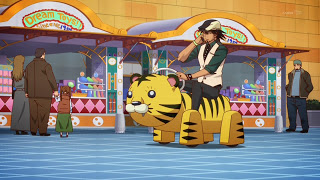 Kawaii!
I could practically here the "Squee!" from the fujoshi as the first part of the episode played out. Perhaps this will take some of the heat off No. 6, because that sequence with Kotetsu and Barnaby was about as bromantic as you'll see two males behave. I'm still feeling pissed at Kotestsu for blowing off Kaede yet again, but I couldn't help but feel sorry for him, caught as he was between two highly emotional women in his daughter and Bunny. Hell hath no fury like a Bunny scorned, and when this one overheard his Tiger talking on the phone about quitting, he really flipped out. In his highly vulnerable emotional stare it's understandable, but there was a sort of unintended comedy to it anyway – especially when Kotetsu slapped him.
That was some pretty heavily emotional stuff there, in all seriousness. Barnaby is a guy who like most who've lost their parents early, seems to have abandonment issues – and here was the one person he'd allowed himself to trust about to abandon him again. For Kotetsu's part he's still in the same quandary, with Kaede growing increasingly impatient and his mother less inclined to apologize for him. It was really touching to see the way he tried to keep Barnaby from going to a really dark place, and the timing of the overheard call couldn't have been worse.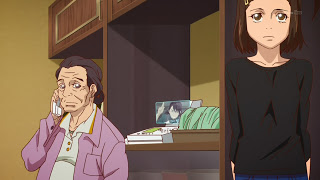 That, however, was when things took a huge turn and the ep turned into something else altogether. Spurned (in his wounded mind, anyway) by Tiger, Bunny goes to the other man he trusts, Maverick. Maverick has had the stink of betrayal about him for a long time, but when he asked if anyone else had overheard Kreim's statement that Jake wasn't the killer of Barnaby's parents, the deal was sealed in my mind. And indeed, we ended up getting that question answered much sooner than I expected as the second part of the episode raced along at dizzying speed. It was Aunt Samantha's memory and an old photograph of she and Barnaby together under the Christmas tree on the day of the murders that was the tipping point – Maverick was trapped in a lie, and it all came flooding back to Barnaby.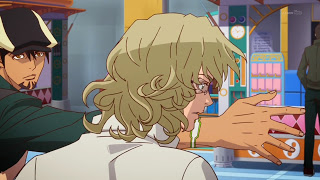 So the theory held by myself and others that Maverick was involved in the murders was borne out. His reason? The Brooks' were about to blow the whistle on his scheme to boost ratings for the nascent Hero TV by staging crimes – with the help of none other than a criminal organization names for a snake swallowing its tail. But here's where things got interesting, and no one I saw had the aspect of Barnaby's memory just right. He wasn't a cyborg (I never bought that yarn) and it wasn't some sort of mechanical brainwashing – Maverick is a NEXT, and his power is implanting memories. I didn't see that coming, but it does add up, and of course it justifies his willingness to explain everything to Barnaby and by extension us, because he's going to erase all those memories anyway. Cue vicious cliffhanger.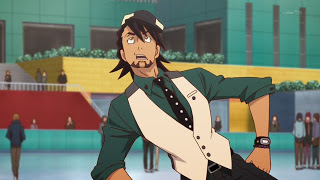 I really admire the art of T & B in putting all this together. Everything in this first 19 episodes really feels like it was logically and believably building to this point. The revelations all make sense, they fit with each other, and we've come to care enough about the characters for it all to matter. Kotestu seems bound to stick with Barnaby through his crisis, but what will Barnaby's state of mind be after his memories are altered again – what will Maverick stick in there? I suspect it was a combination of guilt over what he'd done and genuine affection for Barnaby that caused Maverick to adopt him, but that doesn't mean saving his own ass isn't job one now.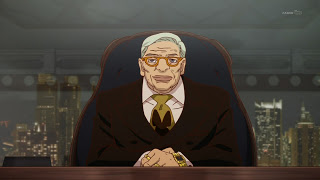 What in the world will Kotestu do about Kaede, who he's unconscionably putting off over and over as she wrestles with the crisis of her life? I have a creeping suspicion that things aren't going to be totally resolved, because this show is starting to have "franchise" written all over it. It's highly successful, already exceeding DVD/BD expectations and branching off into other media. And it just feels like the sort of show that could come back for another season without selling its soul to do it. Superhero stories tend to go on and on, after all – the good ones, anyway.
My current working model? Kotetsu's powers are evolving, but not disappearing – and Kaede moves to the city rather than he moving to be with her. That would certainly set up a second season nicely, but it's just a guess.