I continue to be struck by just how different this second season of Nurarihyon is from the first. It's a fascinating dynamic when you have the same main character, but effectively a different main character – almost as if there'd been a second season of DN Angel with Dark as the lead.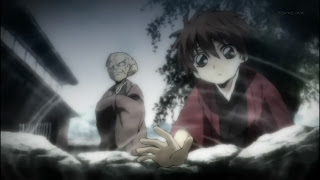 This episode is loaded with new names and techniques, to the point where I'd almost call it a technical overload. That said, despite the flood of new information things do feel somewhat clearer by the end of the ep. The nature of the Tono Clan is certainly enlightened further – they're self-referred "Youkai Ninjas" who act as a kind of super-army of combat demons, always neutral in any major conflict but perfectly willing to fight back when threatened. There's an implication that they have a role as mercenaries too, though their leader refuses to acquiesce to the demands of Kyoto youkai Kidomaru (Kuroda Takaya) , leader of a contingent from Hagoromo-Gitsune's camp, who arrives asking for strong warriors to take control of Kyoto.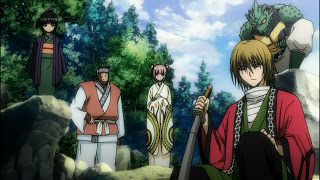 The allusions to the world of Yakuza are clear here, and the subject is even mentioned by members of the Tono Clan. It's clear why Nurarihyon sent his grandson to this place. Rikuo is far weaker than he ever imagined, and the Tono are uniquely positioned to teach him strength. His grade-school caliber fear is easily cut through by Itaku, who tells him that he must learn what the Tono call "Possession" – the ability to cut through fear with fear. Rikuo commits himself to learn it but doesn't have much success until he's forced into combat by Kidomaru, who recognizes him as Nurarihyon's grandson.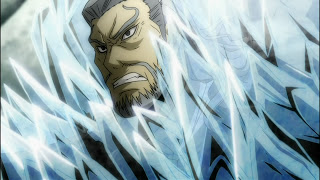 It's at this point that things begin to get sort of metaphysical. I liked the way Rikuo's path forward was to meditate on the nature of Nurarihyon – what sort of youkai he is, and what makes him most formidable. If he's to progress as a fighter Rikuo must use a technique that's true to his nature, like ice for Yuki-onna and water for a Kappa. But Nurarihyon's power is nothing to concrete and direct as all that – it's "the moon that floats on the water". It's Kyokasuigetsu – the personification of dreams and illusions. Nurarihyon's fear is that he's not really there, only the illusion of him is – but that makes him that much more real in the minds of his foes. it's a bit new-agey, but actually an interesting concept when you think about it.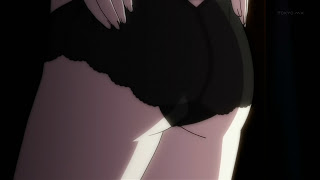 Though Rikuo finally comes to understand this, he's still a boy – and he still needs the help of his Tono tutors to bring the conflict with Kidomaru to an end. Kidomaru threatens the Tono that if they help the Nura, they'll die like the Nura – and the Kaikan onmyouji – though whether that's enough to bring them into the battle with Hagoromo-Gitsune is still unclear. Back in Kyoto things are progressing apace. The eight seals that have held for 400 years are placed in spiral pattern at such famous landmarks as Kiyomizudera, Kinkajuji and Nijo Castle – where the first seal was placed by Hidemoto. According to Hagoromo-Gitsune's acolyte Gomijizou Minagoroshi Jizou (Chafurin, wonderfully slimy) they must be broken in order, finishing with the first. Hagoromo's other followers are inpatient for their bloodbath after 400 years of frustration, but Minagoroshi Jizou seems to be the one in charge, and he has her ear for the moment. For her part, Hagoromo-Gitsune seems content to feast on human liver with a nice Chianti and slink around in grown-up kuropan.
I suspect Rikuo's time in Tohoku is going to end pretty quickly, as he'll need to be in Kyoto before things really hit the fan. Yura is already there and the Kiyo Cross will be soon enough, so once he arrives the major parties will be present for the big battle to come – with the exception of Nurarihyon himself and the Tono Clan. Will they journey to Kyoto to enter the fray personally? We shall see soon enough.