After a wait of an extra week, Ikauhara ups the ante for both the weird and the threat level with episode six of MPD. I'm not going to board the train of people proclaiming this a classic episode – for me, it was a step down from #5 – but it was still very good.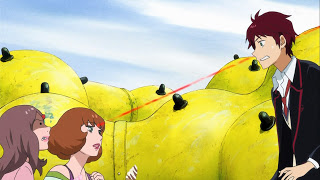 I haven't tended to love the eps that feature Ringo as the main character, which might be part of the reason this effort didn't quite thrill me. She's a bit much to take when she dominates the screen time, but at this point I think we have to say she's the main character of the series. She's been the central focus of three of the last four eps and we know more about her than about any of the other cast members.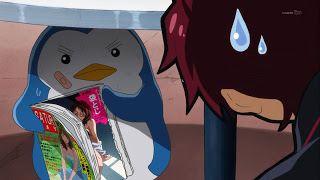 What do we know? Well, more and we we're seeing that the level of her disorder is truly staggering – she's pretty bonkers. Her Daddy issues were well-known, but what becomes clear now is that her family split apart over the death of her older sister Momoko – a sister who was Tabuki's childhood sweetheart. What a mess – the unhealthy complications from that scenario explain a lot. Ironically it was her mother that couldn't let Momoko go and her father who wanted to focus on Ringo (a theme seemingly common in anime) but now he's seemingly forgotten about her, and Ringo mus live with Mom. And if all that weren't enough to make her a Yuno Gasai in training, her birthday – "Curry Day" – is also the anniversary of Momoko's death. Her Death Note is actually her sister's co-opted diary, and her obsession with Tabuki part of her grand scheme to become her sister and bring her family back together.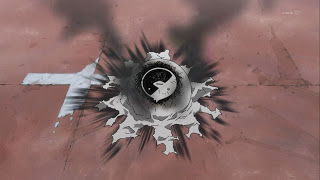 Poor girl – that's a psychological shit-box that rivals any I've seen in any fiction for a while, and kudos to Ikuhara for the inventiveness to put it together. I still enjoy watching the other characters more, though, and they aren't totally absent here. We don't see much of Kanba but what we do packs a lot of foreshadowing. Asumi has apparently totally forgotten him, and when he goes to meet two other ex girlfriends who he believes sent him the email suggesting they knew what he was looking for, Natsume zaps them with grayscale penguin balls shot from some sort of slingshot-gun that looks like something Wile E. Coyote bought from Acme. After a rather creepy mental implosion, both girls regain consciousness – also having forgotten who Kanba was.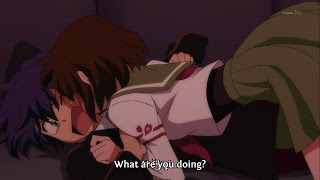 You have to assume Natsume wanted Kanba to witness that in gory detail – she's gaslighting him for reasons as yet unclear. She's also got her own penguin assistroid, which is interesting – and she refers to the same "Project M" that Ringo refers to in her death note. She has her own boss she's reporting to – Penguin Hat Hiromi, maybe? – and remains the most mysterious member of the cast. I always love hearing Horie Yui voicing a baddie – she tends to get written off as a very specific type of seiyuu, but she really can do almost anything – this reminds me a bit of her work in Soredemo Machi wa Mawatteiru.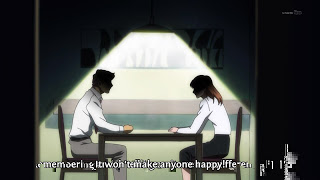 As for Shouma (who remains the most endearing non-penguin cast member for me) he seems to have fallen into a role as Ringo's lackey – acting as her slave in exchange for a vague promise to get a look at the diary later. Ringo's Mum seems to be trying to ship he and Ringo, understandable since she walked in on a feverish Ringo furiously attempting to suck his face off. But while she's focused on Tabuki as only a yandere can, that obviously can't work long-term and if there's to be a happy ending (and maybe even if not), you have to think those two are going to be paired for real eventually.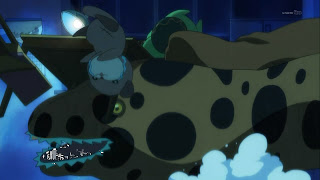 Each episode of MPD seems to be good for at least a couple of brilliant gags (penguin reading porn and the diary being two that stand out this week) and Ikuhara's brilliant imagination shines through even in the lesser episodes. With 24 episodes to fill, we're only 25% through the story and it's clear Ikuhara is going to take his time and keep us guessing for quite a while yet, which is fine by me. I think it's inevitable with a director as erratic as Ikuhara and two full cours to fill there are going to be significant ups and downs, so I'm going to try not to be swept away too much by the weekly highs and lows. It wasn't a great ep but it was a good one, and there's nothing wrong with that.