When I said "This is my pick for sleeper of the season" in my Summer Preview, I don't think even I expected Kamisama Dolls to become the series it has. Surely, with this week's episode KamiDolls has set a new standard and redefined itself as a series. Wow.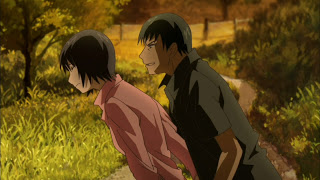 I hardly know where to begin in trying to describe just why this episode was so spectacular. It was fearless, beautiful, tragic and horrifying all in turn. Even in a show that had already revealed hidden depths in its first six episodes, nothing prepared me for the sheer weight of this one. There were tantalizing hints dropped in those earlier eps about what might have brought matters to where they stand today, but the events themselves far exceeded normal anime clichés. In the end it all fit together perfectly and explained much of the subtly tragic undertone that runs through the series.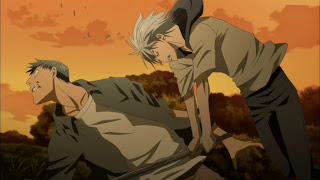 It came as no surprise to me that Aki was a victim first, a killer second – though the lines are still blurry even now. He was a bastard of the Kuga family, who somehow managed to find himself as Seki for Kuramitsuha, a role that by rights should have gone to eldest legitimate brother Atsushi. Atsushi is a cruel, sadistic young man who isn't afraid to abuse the power his status gives him, and harbors a deep resentment against Aki. There are strong hints that Aki is abused mercilessly by Atsushi and his minions, with only Kyouhei as a friend, but the real impetus for tragedy is the arrival of a teacher from the outside world. She's Chihaya Senou (Nabei Makiko). She immediately befriends Aki, forcing him to adopt a stray dog that had defended him, and immediately becomes the object of Kyouhei's crush and gets on Atsushi's bad side by refusing his advances.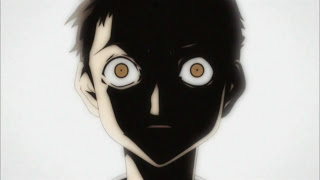 Some of what follows is predictable. Atsushi makes life difficult for Senou, and given that the Kuga and Hyuga run the village unchallenged he can make it very difficult indeed. She's shunned by the adults, who pull many of her students out of school. But here's where things go off the script. Senou is no angel – she was fired for sleeping with a student's father, and the boy became so upset that he ran into the street and was injured by a car. That's why she can't find work anywhere else – and to make matters worse, she falls in love with Aki, who reminds her of her lover's son. They sleep together, and when word of that gets back to the Principal her job is forfeit. Not only is Aki underage, but his name is poison in the village. That's pretty edgy material indeed – but the tragic events that follow from Atsushi's petty attempt at revenge far exceed anything we've seen in the series to this point. They're so terrible, in fact, that they cause Kyouhei to stop being a Seki.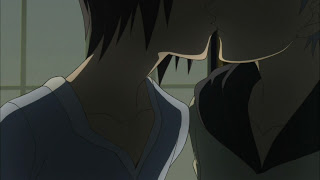 Stop me here if you saw all that coming – I certainly didn't, even with the clues we'd been offered. I deeply admire the ability of this series to shift between moods and styles so effortlessly, though not all feel the same way. Even so, this was an order of magnitude apart – it many ways the episode felt like an extremely dark Ghibli film. The animation was lush and fluid, showing the innocence that was lost as expertly as the tragedy that destroyed it. The insert song contributed to that feel, and the absence of an OP or ED added to the impression of something completely apart from the rest of the series. In essence, this was all very adult – the events and motivations were darker and more complex than almost anything you'll see in anime this year. There were no shortcuts and no hedging of bets, or punches pulled.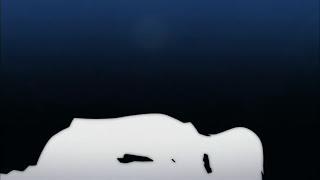 I was also struck by the dramatically different portrayals of life in the village presented in the last two episodes, hardly accidental. In episode six we saw a place that was strange, but seemed mostly harmless and even idyllic – where families love their kids and eccentric locals fill ancient roles in the odd hierarchy. There was a hint of painful memories, but just a hint. In this episode we saw a cruel and deadly place where the powerful abuse the powerless and rumor and gossip are wielded as a weapon, where the cruel can threaten their perceived enemies – and do worse – under the protection of their family name. Last week Kyouhei might have seemed peevish, even petty for turning his back on the village – now, his decision is eminently understandable and even laudable.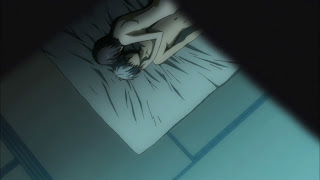 Kamisama Dolls is a series that seems very ill-served by a one-cour format. This is a huge story, layer upon layer of conflict and connections with a large and diverse cast. So far at least it seems unwilling to settle for short-cuts and easy answers, so it's hard to imagine things being wrapped up in a mere six episodes. Aki may be a victim, but he's also someone who was apparently stopped from being a Seki in the first place because he'd shown cruelty to animals. There's the matter of Kirio and his nightmare upbringing, still not fully explained. How does the revelation of his real identity affect his status in the village, and what kind of relationship with he have with his siblings and parents? There's a hidden danger in the hands of the Hyuga, which was surely introduced for a purpose. Kyouhei himself seems destined to take control of Kukkuri at some point, given that we've seen hints that he was the strongest Seki of them all – perhaps to combat that threat. And that's not even to consider what's going to happen when most of the cast returns to Tokyo.
As much as I was invested in KamiDolls already, by proving itself capable of delivering something special like this the series has stamped itself as a highlight of the year. Even if it never reaches that lofty height again, the emotional impact of everything that happens from here on out will be magnified by the credibility this episode earned.
br