At long last, Hanasaku Iroha seems to have returned to the general vicinity of its actual plot. The 21st episode spent most of it's time dancing around the fringes of it, warily shadow-boxing, occasionally making contact. But that's closer than we've been for a long time, anyway.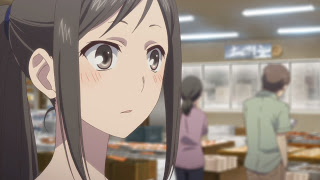 Because that's what I've been begging to see for almost two months, I feel bad for not loving the episode to death. But it was just OK, really – suffering for the fact that it spent most of it's time on the characters and events that are probably the least interesting elements of the core story, and from some of the same stiff writing that's plagued HanaIro for most of those two months. The latter is somewhat disappointing given that Mari Okada wrote the episode, and her scripts have tended to be the best the series has to offer.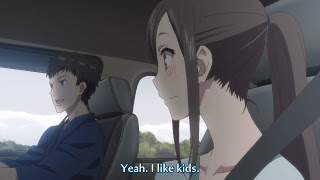 Maybe the positive spin on this is that we're getting the most disposable "core" elements – Tohru's crush on Ohana and Enishi and Takako's relationship – out of the way so that the better and more important can be dealt with unhindered. But no matter how much lipstick you put on the pig that is Enishi and Takako, you still can't make it an interesting relationship, or either of them likeable. Takako – with her annoying and utterly random Engrish and makeup like a bad Mary Kay ad – is a genuine chore, and Enishi is more pitiful than anything. But hey, they're probably the only ones that would marry each other, so maybe it's a match made in heaven.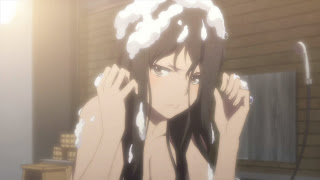 The most interesting element of their relationship is the effect it has on Madame Manager, and how she responds to it. She's her usual diffident self as first, but agrees to the marriage as long as they have a proper ceremony – something neither "Enishing" or Takako can afford. They decide to hold the ceremony at Kissuiso, which gives yet another opportunity for Ohana and her schoolgirl pals to get together on a project and show how plucky they are. But it's through Sui that the episode reaches it's height, in the last few minutes – as this series so often does, almost salvaging a mediocre ep with a good finish. There's a lovely flashback to Sui's courtship & marriage, where we learn that her late husband named the inn "Kissuiso" because it means "To Please Sui". She gives Takako her wedding ring, but then with the other hand drops the cliffhanger bombshell – she's not planning to give the inn to Enishi, married to Takako or not.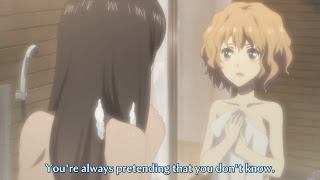 This engagement also drives the other slightly less annoying and slightly more vital plot strand, Tohru's poorly hidden crush on Ohana. Mr. Ren lets Tohru take charge of food for the reception, which sets Tohru and Minchi off on a shared adventure she hopes will allow her to confess at last. But first he freaks her out by telling her he wants at least five kids, and then he makes it clear by his excessive mooning that he's stuck on Ohana. Minchi at least realizes that this is something that needs to be confronted, but her violent anger at Ohana is rather juvenile and silly (though it does net us a spicy cat fight in the baths). It appears that this element – the "one-sided crush" may be the topic as well as the title for next week's ep.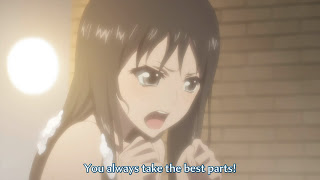 This really wasn't half-bad – it was indeed refreshing to be dealing with something weightier than omurice. But frankly it should have been better than it was, with Okada scripting – I wonder if this show has been adrift for so long that it will never truly find it's way back to shore. For now, we'll ponder what happens between Ohana and Tohru, and on Sui's intentions regarding her revelation to Takako. Does she plan to give the inn to Satsuki? To Kanae and Ren? To close it down?