It really hurts me to say it,, but Baka Test just isn't doing it for me this season. There are two main problems, and they're both big ones. The show just feels meaner somehow, first of all. And second, for whatever reason it just isn't nearly as funny.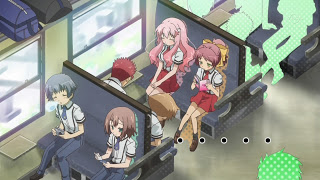 Don't get me wrong, there was always an edge to the humor here, and that's what made the show work. But while the ironic aspect of the abuse was always front and center, this season it just feels like sadism. Somewhere when I wasn't looking, B-T crossed the line from edgy to man-hating. And that's an issue, because right now I frankly hate every female on the show except the two we rarely see, Mizuki and Aiko. Watching nice guys (well, and Voyeur) getting tortured consistently by psychotic yanderes and tsunderes isn't any fun. And if a comedy isn't fun to watch, why watch? And for goodness sake, why blog?
I'm sticking this out for a while longer, because I loved the first season and there have been a couple of very funny bits this season – the talking shoukanjuu and the kimono competition come to mind. But two funny bits in almost half a season is a poor percentage, and this episode didn't help. I didn't really find any of this blackmail story especially amusing, apart from Hideyoshi's "That makes me happy for some reason". It's funny to say in a show about injustice, but the sheer injustice of what's happening to the guys – especially Akihisa – is exhausting. Last season there was a sense of the whole class banding together to fight – now it's just Minami, Himeji and Shouko (who, to be fair, I disliked even last season) making Aki and Yuuji's life a living hell.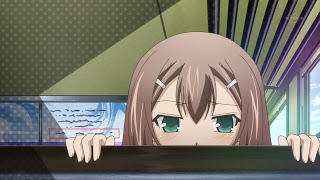 It's hard to say just why things have degraded so far. We have the same director, the same studio, the same source novels, but the chemistry is totally different. Why is Himeji such a sadistic terror this season, when her tortures were involuntary last? Where's the sense of affection the writing seemed to have for the characters? Thank goodness Hideyoshi and Voyeur are still intact, because they're all that's making this watchable for me right now.
I'm not thrilled that this is a two-parter, as that means we're unlikely to see any improvement next week. At this stage of the game I'll probably selectively blog this on a case-by-case basis, so my apologies if you're looking for a post and don't get one – reviews like this are no fun to write.