I know this is a hard argument for me to win, but after two episodes I'm now convinced – R-15 is a damn good show.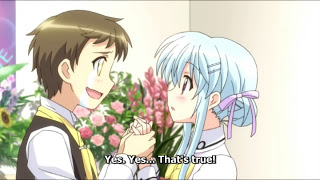 I'll stipulate to a few things. The censorship bars are very silly and distracting. The largely unknown cast isn't going to win any prizes for polish. The whole enterprise isn't especially slick or flashy.
But here's the thing – and the part where I know I'm going to be isolating myself on a very lonely island. Not only is this a good show, but it's actually a sweet show. And not only is it a sweet show, but it's actually – stay with me here – sort of deep. Did I think I would ever say those things about R-15? No, I didn't. And I don't for a minute think this show is going to find a wide audience, or that most people are going to take it the way I think it's meant to be taken. But that isn't going to stop me from admiring and liking it.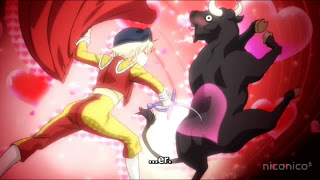 This is what I think this series really is. It's a story about the dual nature of man (or boy). Two natures that are always in conflict, though not always so literally as they are here. Taketo elaborated this dilemma in his soliloquy to the idol, Utae – but even he admitted he could have been talking about himself. He's a guy who makes his living off of sex, but at heart wants nothing more than to be a romantic. As a hormone-flooded kid, his body has a mind of its own – but what he really wants is to write about love (and to have the affection of the girl he loves, Fukune-san).
This is hilariously and yet also somewhat wistfully laid bare in his creative fits. We saw it in the premiere and we saw it here, as Taketo fought to keep himself from lapsing into an erotic trance and putting Utae into every debasing position possible when she bared her soul to him. As the blood poured from his nose he finally lost the battle, seemingly, but managed to compose a genuinely romantic fable illuminating the dilemma both he and Utae were facing, even as it descended into a kind of soft-core eroticism. And it had the desired effect on the girl, too.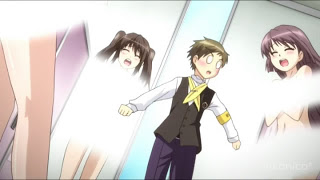 Single frame eyepop
The most ironic part of this for me is that the dilemma of Taketo perfectly mirrors the one the series itself is facing. As he struggles to be seen as romantic and thoughtful, the world perceives him as a slimy pervert who demeans women. And that's the opinion most viewers seem to be drawing about the show itself, despite the fact that it's actually doing a rather good job illuminating a larger conflict humans deal with every day and painting a picture of a rather complex and likeable main character. And just as he brings the poor perception on himself, so R-15 does too – because as with Taketo cheap sex is very much a part of what makes up the whole object. There's a surface-level sheen of exploitation and shallowness that will prevent most people from ever seeing what's underneath. It's a somewhat unseemly part of the show just as it is in Taketo, but just as it's an inescapable part of human nature it's hard to see how this show could be what it is without it. If the series is about the contrast between sex and love, it has to have the sex front and center for it to work.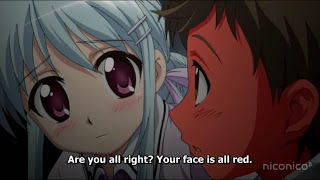 The other piece of encouragement I took from this week is that the show didn't degenerate into 22 minutes of the female cast abusing Taketo in every way possible. Not just that, but we actually saw him make progress with Fukune without even trying to, and nothing came along and spoiled it. He started to convert her without knowing it and without selfish motivation, simply by being decent towards Utae. That was refreshingly different, and gives me hope that R-15 can continue to exceed the expectations even I held for it after the first episode.