And so, impossibly, the animated commentaries for Oreimo are actually getting even weirder and more surreal.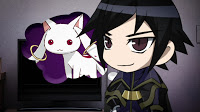 STILL eeevil
I wasn't even sure there would be another set of commentaries for these DVD-only eps, but there you are. Way back in Volume 4 I speculated "Does this mean a "MasChera" commentary is coming?" when we got a Mereru one. Sure enough, we got one for the 2nd episode 12, first of the "True End" eps. Hosting were Lucifer (as played by Kyousuke) and Queen of the Night (as played by Kuroneko). Well, that situation is pure win to begin with, as those are my two favorite characters. But the background (strikingly detailed) about Kuroneko's favorite anime-within-an-anime was a nice bonus. It sounds like a more interesting show than Mereru, that's for sure – sort of a cross between DN Angel and Kuroshitsuji.
The best part for me, though, was the meta-reality these commentaries have become so good at taken to an even higher level. Lucifer offered some analysis of the why the events of this differed from the original, blaming it on Kyou's weariness from riding the bike home from Akiba and on accidentally seeing Kirino's scat porn. He also got off the best line in response to QotN's question as to why Kyou didn't take a cab home: "Read the light novels!" But the highlight was when she did an analysis of the commentary Kirino and Kyousuke had done of the original episode 12 "Good End". So you had two animated characters doing an animated commentary of two animated characters doing an animated commentary on their screen, while the two characters on that screen commented on the original episode on their screen. My brain hurts. Hurts so good…
"I don't want a non-gay brother!" should tell you all you need to know about the hosts for the episode 13 commentary. Yes, it's the Akagi siblings this time – hard-core fujoshi nutjob Sena and big brother Kouhei. As is so often the case, these commentaries serve as a kind of character psychoanalysis, and while there wasn't more more to learn about Sena, it's more clear now just how much of a siscon Akagi is. He even pretends to be Kyousuke's lover to make her happy. We also get a reveal of their cameo in episode 4, which I'll certainly admit I didn't notice. And a sampling of possibly the sexiest scene of the year (along with Lucy sitting in her cell at the beginning of Fairy Tail 85), Kuroneko lounging on Kyou's bed in thigh-highs.
Most interesting in this element were the teasers the producers just love throwing at us in these extras. Kouhei gets his own light novel plug in, sending the viewers there to check out why he glares at Makabe in such a bloodthirsty way. Even better, he tosses off a casual "You'll see what I mean after the next season finale" when talking about what foolish big brothers he and Kyou are.
I confess, I love the mischievous attitude Oreimo takes with these commentaries – the teasers and spoilers and little winks at the audience they manage to work into most of them. These are exactly what DVD extras should be – they're entertaining, clever and genuinely add something to the experience of the series. I think it's probably pretty safe to assume there only will be one more set for this season anyway, and Kouhei let it be known that it'll be Kyousuke and Kirino back in control, exactly as it should be.