Ikuhara caught me out with the sudden total shift at the end of this episode, but on balance it was still a much sillier episode than the first one, which was more random in an unsettling way than silly.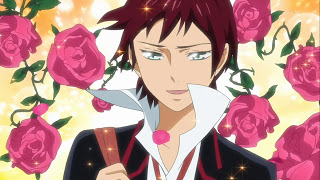 Indeed, this week's effort was filled with dialogue like "Are you trying to steal my octopus-shaped wieners?" and seemingly endless shots of service penguins #1 and #2 taking close-up panty shots. The penguins were the real stars of this episode, from getting stepped on during rush-hour on the metro to stealing lunches to copping a feel. It was all pretty juvenile, but undeniably funny.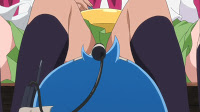 This being Ikuhara, there was still plenty of intellectual depth mixed in with the magical-girl transformations and panty-shots. A few themes are definitely emerging here. Sex is obviously part of just about every metaphor in the series, as witness the double-helix displays at the lingerie shop, not to mention the imagery in the aforementioned transformation sequence. Trains are another motif, of course, linked with sex but beyond it, too – as many have pointed out, the first ep borrowed liberally from Night on the Galactic Railroad. Train images are everywhere from the eyecatches to the events on the show itself. Lastly, we're concerned with fate and destiny – manifestly especially in the person of high-schooler Oginome Ringo (Miyake Marie). Her namesake fruit, the apple, keeps popping up in her diary and elsewhere.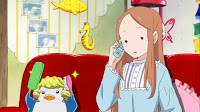 Sent off on a quest by "Himari" to find the penguin drum – supposedly in Ringo's possession – or their sister's life will be forfeit, the strange odyssey of Kanba and Shoma is largely comedic, but it does tell us a little about the brothers. As you might have deduced from last week, Shoma is both far more innocent and moral than his brother. He sees the invasion of Ringo's privacy as wrong on absolute terms, while Kanba reasons that it's perfectly fine because no one can see the penguins they've sent to spy on her, thus they'll never get caught. A classic determinist argument, but one that Shoma can't effectively rebut with his sister's life seemingly on the line.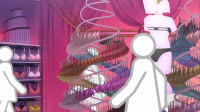 And then there's Ringo, the seemingly cute and innocent girl who wrestled the ep into dark territory single-handed. We have no idea if she really has the drum – is it her diary, perhaps? – but what we do find out is that she's a full-on stalker. Her target is the boys' homeroom teacher Mr. Tabuki (Ishida Akira) and she takes things into pretty scary territory – going out on a high ledge to snap a picture of a bird's nest for him, buying sexy underwear, even crawling under his house and setting up camp to electronically spy on him. Whether or not she has the penguin drum, she's nuts.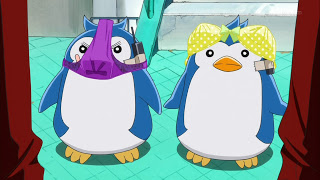 I like this series, and you can't help but marvel at the imagination that goes into both the visuals and the plot. I don't quite buy into the hysterics of praise I've seen in some quarters – this is very good stuff, but still more of a mess than a real classic. Still, it's clearly the work of a staggering talent, undeniably looks great and there's nothing else like it. Real info on what's actually happening is still scarce – major plot points like the nature of the entity possessing Himari, the nature of the penguin drum and just what the "survival strategy" is are still deeply shrouded in mystery. My hope is that this will end up something like FLCL, a preposterously cool mess of confusion that somehow comes together and makes sense by the end. That's probably too much to hope for – FLCL did that in six episodes and I'm not sure Ikuhara can do it in 24. But I'm certainly curious to see him try.