There were some unsettling trends evident in the fourth episode of Mawaru Penguin Drum, which was an overall step down in entertainment value from the first three for me.

While there's never been any question about the visual inventiveness and killer style with this show, I've been waiting for something involving the plot and/or characters to really grab me. While I still didn't get that this week, what really worries me is a sense of repetitiveness was starting to creep into the proceedings. Things dragged at a few points (which has never happened before with this series, in my view) and some of the gags started to feel recycled.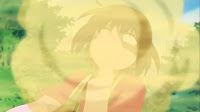 Basically, there are two questions nagging me about MPD. First of all, is there any "there" there? Is there a heart at the center of all the colors and fabulous backgrounds and character designs and the great sight gags? And second, does Ikuhara have what it takes to see this through for 24 episodes? I'm afraid the answer to both is inconclusive at this point. The opera joke wasn't all that funny the first time, never mind the fourth and fifth. Yes, I get it – they're both bad singers, and it's a stupid schoolgirl fantasy. But it was looped too many times. Ringo having more and more ridiculous things go wrong time after time is starting to feel like an old joke, too. So is the "housewife" line. You get the point. If it doesn't feel as fresh after 4 episodes, how will it feel after 24?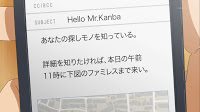 As to the question of whether there's anything of substance at the center of the labyrinth, I'm equally unsure. The only character on this show that seems remotely likeable to me is Shouma. And he is likeable – he has a core of real feelings and emotions that certainly sets him apart from the other characters. But he's on a bit of an island at the moment. I'm not thrilled with Ringo seemingly emerging as the main character, as I don't find the stalker humor holds up well to after repeated use and the only other way she can go is downright scary. Kanba is, frankly, a dickhead. Hiromi is a cipher, Tabuki hasn't made any impression beyond "amiable doofus" and Yuri seems like a very cliched sexy older woman/villain. At least there's a Horie Yui character out there somewhere, waiting to potentially add something to the mix.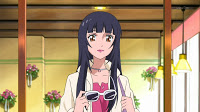 In terms of plot, the episode really felt like it was running in place for about 20 minutes – an excuse for a bunch of crazy stuff to happen to Ringo and a bunch a sight gags involving the penguins. They were good gags, especially the one where Sho's penguin seemed to be diving down to rescue Ringo, only to go after a carp, and the scenes between Shouma and Ringo weren't intolerable, but the only moments that felt like they were of any import were the very brief scenes involving Kanba and the hit squad of girls he dumped on, who lured him to the coffee shop with an message strongly implying they knew something about the drum. As MPD has already proven it's wont to do, the ep ended on a hairpin turn – this time Kuho, one of Kanba's victims, being pushed down an escalator, presumably to her death. The twist? She was on the phone with someone implying that the business with Kanba was a ruse, and that person appeared to know about the drum too. Even bigger twist: her death was apparently predicted in Ringo's death note diary. That's certainly thought provoking.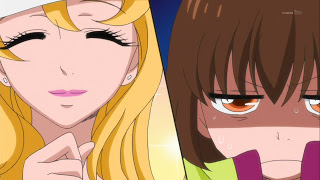 The one thing I've never questioned with this show is its entertainment value, so when that drops off even a little that's a major cause for concern. I have faith – though not endless faith – in Ikuhara. He's a creative genius, but I'd argue he hasn't always been able to close the deal as well as he should have. There's no way in hell I'll stop watching, but I'm at the point now where I want more from this series, not less.