OP: "Sweet Drops" by PUFFY
Will anyone be surprised if I say that NoitaminA looks to have another outstanding series on their hands?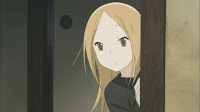 Keeping with the trend over the last few cycles, anime's finest hour is delivering a heartwarmer and an edgy fantastical series (No. 6, to be reviewed later). Meanwhile to give the tear ducts a good workout we have Usagi Drop. I can't speak for popularity and BD/DVD sales, but this seems like a can't-miss for quality. You have a source manga by Unita Yumi that is adored by critics. You have Production I.G. at the helm (though that doesn't carry quite the weight it used to for me). You have a cute little girl portrayed as a real cute little girl and played by a cute little girl. Seriously, it would be a huge upset if this failed creatively.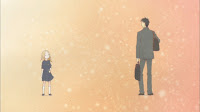 If you're concerned with genre the manga is considered Josei, which is certainly a relative rarity in anime on television. It's a pretty straightforward premise: bachelor Daikichi (Tsuchida Hiroshi) doesn't see much of his family, but goes home upon the passing of his maternal Grandfather. There he sees a strange little girl flitting about the edges of his vision. She's Rin (Matsuura Ayu) and it turns out she's the Grandfather's illegitimate daughter. He was 79, Rin is 7, and the mother is AWOL – so naturally this is a matter of some shame for the Kawachi family. I'm sure you see where this is going even if you haven't read the manga.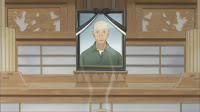 Indeed, the premise is elegant in its straightforward simplicity, though if I detect any flaw in the premiere it's a very slight tendency to go for the obvious "D'aw!" moment on occasion when more restrain would have been preferred. But that's a very slight tendency – generally, the material is played pretty straight.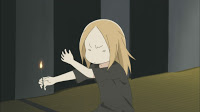 Most of the first episode is taken up with the funeral and family meetings, and it does a wonderful job portraying the strained family dynamics as the Uncles, Aunts, Siblings and children convene. This is obviously a dysfunctional family, and while there's little overt cruelty towards Rin there's always a sense of chill and discomfort towards her. There are signs Daikichi – childless at 30 – is something of a black sheep, and possibly the grandchild most similar to the old man. Perhaps he sees something of himself in Rin, or perhaps it's his innate decency, but he immediately take a gruff interest in her where the others keep their physical and emotional distance.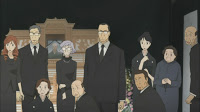 When no one else steps up, Daikichi of course says he'll take Rin home himself. There are obvious pitfalls in this scenario of a work-obsessed bachelor taking in an awkward, quiet 7 year-old girl, and as well as the manga is regarded I can't imagine they'll be ignored. Rin is voiced by a 10 year-old girl, and though she doesn't have many lines in the premiere (the rest of the family think Rin has delayed speech issues, though she's really just shy) this notion of authentic child casting appears to be a good choice for both I.G. (Chagum in Moribito) and NoitaminA (Nitori in Hourou Musuko). She comes off as smart and resourceful, quite adept at Cat's Cradle and the making of rice balls. Daikichi is obviously not much of a social animal. As played by Hiroshi he's unsmiling and abrupt, but seems to be a man who doesn't suffer fools gladly.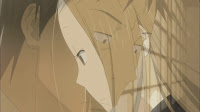 The biggest names in this cast are in the supporting roles, and the director (Kamei Kanta) has never filled that role for a series before. But based on the first episode those things don't worry me too much. The animation is not going to blow anyone away – it's extremely simple and understated, with some of the same "animated manga" feel that Hourou Musuko had. I think the biggest danger this series faces is the temptation to go for the big tearjerker moments, because you have a premise that's already loaded with emotional weight. If Usagi Drop can avoid that trap, it stands a chance of becoming yet another stellar series in an amazing run of quality from NoitaminA. Whether it reaches the commercial success that has so often avoided the block lately is a far more dubious issue.
ED: "HighHighHigh" by Kasarinchu