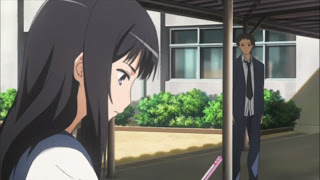 OK, I'm sold.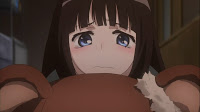 It's interesting seeing a two-part premiere episode – can't remember the last time that happened. It's a gamble, because if what's happening doesn't grab you quickly that can make the decision to drop the series easier. Fortunately, Kami-sama no Memo-chō had me invested in the characters and premise pretty much immediately.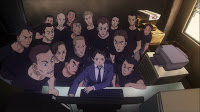 Narumi said "I'm captivated by Alice's words" in the PV, and I feel the same way. Her dialogue is very deep in a way that makes you want to stop the playback and really think about the implications of what she's just said, and that's a pretty rare quality in anime (or any TV) writing. While this came out before Gosick in LN form it was second to the gate in anime, so it's only natural that viewers are going to compare Alice to Victorique. We know less about Alice than we did about Victorique at this point – for example, how old is she? Ayaka called Narumi a pedophile for not leaving the room when she was undressing Alice, which implies that unlike that other loli detective this one might be a real loli. At least we now know she's not a total shut in.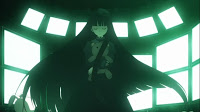 The mystery itself was more interesting than the first one in Gosick as well, a gritter, modern tale of teen angst and enjo kosai as opposed to the fairy tale grandiosity of early mysteries in that series. Turns out that Shoko was actually Satoshi's BF, and that he and Kimura were playing a little charade of self-deception and a sting racket against Shoko's customers. Not only that, Shoko had already killed herself, a fact that Satoshi was keeping secret by icing her body down in his apartment. Grim stuff. Alice pieced this all together with more help from Narumi's direct approach than any of the somewhat silly theatrics of the three stooges, and Narumi seems to have unwittingly earned himself a place in her inner circle.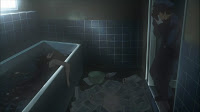 I continue to get a Durarara vibe from this, both in terms of the straight-laced first-year boy swept up in a shady, stylish ring of bizarre characters and the vibe of urban cool that surrounds the whole enterprise. The locations, the inset music, the pacing – it all has some of that same frenetic, industrial-dance quality to it. And we continue to meet more of these weird characters too – this time a blonde dude named Hirasaka who fixes teddy bears and appears to be a power broker in the odd world Alice and her troop inhabit.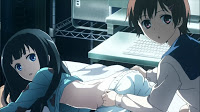 Points also scored for the ED, a rollicking Southern-tinged hard rocker by the reunited 90's icons Mr. Big. They're much bigger in Japan than the US, but a band known for strong musicianship that's produced quite a few hits over the years. An odd choice, but one that suits the vibe.
ED: "Colorado Bulldog" by MR. BIG