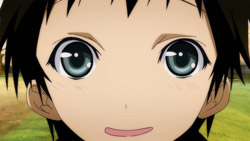 I'm pleased to be able to share some rather exciting news – starting this season, I'll be joining Random Curiosity as a regular contributor.
First and foremost, let me say that this blog will go on uninterrupted, and hopefully better than ever. I think this is a great thing for Lost in America – for a new blog like mine, the chance to interact with the readers of a monstrously popular site like RC is a fantastic opportunity. I'm extremely grateful to Divine at RC both for asking me to join the writing staff, and for being open to me continuing to blog for both sites.
What will this look like? Well, as I see it the synergy should be great. I'll be picking up a couple of Spring shows for RC that are covered here, and for those I'll blog them on both sites. Ongoing, the plan is for me to cover different shows on RC and LiA. It looks like 4-5 shows total this season on RC – we'll see how many after that, but it should be around that number. I'll blog a number of shows here apart from those 4-5 – maybe a few less than I have been, in order to preserve my sanity (blogging 14 shows at once is a lot) but still a good selection.
Of course, this blog being my personal project I'll keep the manga, movie, TV, travel, wine and whatever other miscellaneous topics strike my fancy posts coming – but blogging current (and occasional older) anime series will continue to be the focus. This place will continue to be busy and updated with care and passion by yours truly – albeit hopefully with even more readership. Of course, any feedback you can share with me about making this site better will be read, replied to and carefully considered. And much appreciated as well – please talk to me and keep the comments coming.
So to sum it up: I'm absolutely thrilled to be joining Random Curiosity, and very excited about what this can mean for Lost in America (tonight, we've already broken our record for visits in a day). RC was the first anime blog I followed regularly, and one of the main inspirations for me to start this one. It's an honor to be invited to work there and I'll write with diligence, passion and commitment. I thank everyone who follows Lost in America from the bottom of my heart, and I hope you'll like what I do with the site in the future. This is an exciting day for me and I can't wait for the Summer Season to get started!
Thanks,
Guardian Enzo